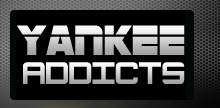 March 30, 2010 · Bronx Baseball Daily · Jump to comments
Article Source: Bleacher Report - New York Yankees
For those of you who love hearing about the Yankee minor leaguers, you are in luck. Over the past couple of days there have been a few stories discussing some of the players closest to the majors. Let's take a look.
First, on Sunday, former pro scout and current AOL Fan House writer, Frankie Piliere had some scouting notes specifically on the Yankees camp. It's worth reading the entire thing, but I'll give you some choice cuts:
Piliere on 2009 First Round Pick Slade Heathcott :
The left-handed swinging Heathcott boasts plus bat speed, and he has extra quick hands through the zone. He's going to punish the fastball on his way up the ladder, but he still looks to be making adjustments on soft stuff on the outer half. There haven't been many fastballs getting by him on the inside part of the plate here in his first professional spring training, though.
The big question with toolsy players like Heathcott is how those tools will develop and what type of player he'll one day become. At this stage, he is looking more and more like a top-of-the-order-type hitter with gap-to-gap power. He does have excellent bat speed and a loud bat, but his swing is not built for a lot of lift. So, is he a 35-homer type bat? Probably not, but a high average and 20-homer production seems to be a reasonable expectation.
Piliere on 2007 First Round Pick Andrew Brackman:
Will the explosive, upper-90-mph velocity of Andrew Brackman ever re-emerge? The Yankees hope so, but at least Brackman is making adjustments in the interim.
Pitching at 88-90 mph with the fastball, and reaching 92 once in his most recent outing, Brackman's often suspect command was vastly improved. He was dealing with three pitches, locating his curveball consistently and staying aggressive down in the zone with the fastball.
This wasn't the swing-and-miss, overpowering Brackman we expected, but his mechanics look much more comfortable and natural now as opposed to when I saw him in Charleston in 2009. By all indications, his command will be far better this year, but we'll have to see if the raw stuff returns.
Piliere on Ivan Nova:
Ivan Nova's quality raw stuff isn't a secret to Yankee fans by now, but where he fits into the big-league picture isn't quite so clear. Nova has continued to show a good, sinking fastball at 90-92 mph, reaching 94 occasionally. He's going to need to continue working on his secondary pitches, but his breaking ball has looked a bit sharper so far this spring. Nova looks poised for a strong season at the Triple-A level.
Piliere on Jesus Montero :
Montero still looks like he has enough ability to stick behind the dish. He's made some strong throws and has a good working relationship with his pitchers. Footwork, however, is definitely still an issue. He tends to open up on his throws to second, and he needs to improve on shifting to his backhand side to block pitches. Overall, though, his hands have looked soft, and the arm is strong enough to indicate he has the core skills to stick as a big-league catcher. He'll always need to put in extra work defensively, but the talent is there.
Piliere on Corban Joseph:
Joseph has a short swing path and continues to show the ability to drive the ball toward the middle of the field. He also looks like he might hit for some more power in 2010.
Piliere on Abraham Almonte :
Almonte has long been a sleeper prospect, but the 20-year-old outfielder has yet to put it all together during the regular season. He is a big threat on the basepaths, with his plus speed and good first step, but his bat has really stood out this spring. The switch-hitting Almonte drives the ball with authority to the opposite field as well as any player at his level in Yankees camp. With his good range in center field, he can absolutely stick at the position, so with his developing skills at the plate and speed, he is, if nothing else, someone worth monitoring.
Alright, that got a bit longer than I anticipated. So I'm going to split this post into two parts. Check back at 1:00pm for more on Yankees prospects. Until then, let's discuss these guys.
What's your opinion on these guys? Will Andrew Brackman be a bust if he doesn't regain his upper-90's velocity? Ivan Nova could pitch in the Bronx in 2010, does this report give you confidence in him?
Related Stories
Read more New York Yankees news on BleacherReport.com