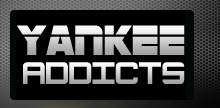 February 21, 2010 · Bronx Baseball Daily · Jump to comments
Article Source: Bleacher Report - New York Yankees
Justin Milo is a little talked about Yankee outfield prospect and if you have heard of him it's probably not because of what he's done as a baseball player. Milo is a two-sport athlete who also plays hockey for the University of Vermont…Until recently.
Here is the scoop from the Kevin Kernan of the NY Post :
Yankees scout Matt Hyde said the 5-foot-8, 180-pound Milo has the kind of attitude the Yankees are looking for in their players. Scouting director Damon Oppenheimer said Milo might be the "nicest kid we've ever drafted." Both were shocked this week when Milo was dismissed from the UVM hockey team by coach Kevin Sneddon. In his weekly news conference, Sneddon told reporters, "it was in the best interests of our program to move forward without him."

Milo, who was the second-leading goal scorer, was stunned by the dismissal.

"It's really been a tough couple of days since the news," he said. "But I'm just kind of surrounding myself with friends and family that care about me."

Asked if could point to a reason why he was dismissed, Milo, who had one year of hockey eligibility left, said he didn't know why.

"It's going to be hard for people to believe, but I don't," he said. "The reason I was given was because of inconsistent play and attitude. There were no incidents or anything. I don't really know what he was talking about by giving me those reasons. It kind of left me just shocked and wanting to know the real reason because it doesn't seem right."
This isn't necessarily bad news for the Yankees though. Listed at 5′8″ and 175 pounds, Milo doesn't exactly stand out as a Yankees prospect. As a 22-year-old he put up good but not great numbers in his first 32 games in the Yankees system, a .432 OBP, .389 slugging, and a .821 OPS. Focusing all of his efforts on baseball could translate into better numbers though.
He's a longshot prospect right now, but he has a great eye at the plate so far (he actually walked more than he struck out last season, 26 walks vs. 25 K's). Of all the tools for a two sport athlete to possess, patience at the plate may be one of the ones you look for the most.
Most Commented Posts
Read more New York Yankees news on BleacherReport.com