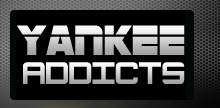 May 22, 2009 · Perry Arnold · Jump to comments
Article Source: Bleacher Report - New York Yankees
The New York Yankees have reeled off nine victories in a row after starting the season poorly and having player after player on the disabled list.
But they have hit more home runs than any other team; are on pace to set a major league record for home runs; score runs in clusters and have more pitching depth than any other team.
An analysis of the Yankee team one fourth of the way into the season gives New York fans many reasons to hope for postseason glory five months from now.
FIRST BASE: The Yankees acquired Mark Teixeira in the offseason as a free agent.
A great deal was expected of Tex and at first he seemed unable to meet the goals that had been set for him.
He struggled mightily for the first four weeks of the season and was hitting below .200 at that point.
But in the past three weeks, Teixeira has come alive. He has raised his average to .250, which still doesn't sound like much.
But he has stroked 11 home runs, putting him on pace to hit 44 for the season, more than he has ever hit in his career.
And he has 32 RBI which puts him on pace to drive in 128 for the year. And he has produced this much despite missing a few games recovering from a sore wrist in the first week of the year.
Teixeira has also provided incredible defensive help, coming up with a number of good stops and saving his fellow infielders from a number of errors with expert pick ups of errant throws.
SECOND BASE: Robinson Cano has rebounded from a dismal campaign in 2008 that left many arguing that he should be traded.
After hitting only .271 in 2008, Cano has returned to the form that almost saw him win a batting crown in 2006. He is currently hitting .317 and has eight home runs and 25 RBI.
Cano's defense has also been impeccable and he has started every game but one.
SHORTSTOP: Derek Jeter is not providing his expected consistency. He has struggled at the plate for long stretches and carries only a .273 average after 41 games, far below his career mark of .314.
But Jeter has been a stable force in the middle defense and has also provided clutch hitting when his team needed it.
If Jeter does not raise his average near the .300 mark by the end of the season it will be a major story and the fact that his team is doing so well while Jeter struggles is good news for New York fans.
THIRD BASE: Alex Rodriguez began the year on the DL with hip injuries that required arthroscopic surgery.
While he was out, the Yankees experimented with journeyman infielder Cody Ransom. Ransom was in a word "disastrous."
A leg injury was bad news for Ransom, but probably good news for Ransom as he was replaced by Ramiro Pena, a rookie who provided great defense and more than was expected with the bat.
A-Rod did not play until May 8 in Baltimore.
Since that late appearance Rodriguez has struggled at the plate and is hitting only .171. But five of his hits have been home runs and he hit homers in four straight games this week.
He has also been patient at the plate and has worked his way on with base on balls.
Perhaps most importantly A-Rod has helped Teixeira. Since Alex was inserted in the cleanup hole behind Tex, Teixeira has taken off.
And so has the team. Since A-Rod came back the Yankees are 10-2.
LEFT FIELD: Johnny Damon has been both the most consistent and the most spectacular player for New York this year.
While not the defensive player he once was, Damon has played adequately in left field in the new Yankee Stadium.
And he has more than made up for weak defense with a potent bat.
Damon is hitting .318 with 10 homers and 28 RBI.
CENTER FIELD: The experiment failed. Brett Gardner won the center field spot out of spring training. The rookie had a great spring and beat out Melky Cabrera despite Cabrera playing well in camp.
But Gardner proved through the first twenty games or so that he just cannot hit big league pitching.
The Yankees went back to Melky and he had produced. Despite being moved around in all three outfield positions, Cabrera is hitting .319 and has 18 RBI even though he has not been a regular all season.
RIGHT FIELD: Injuries plagued the Yankees early in the year and one of the key injuries came to their starting right fielder, Xavier Nady.
Nady went down with an arm injury and was replaced by Nick Swisher who had been brought over in a trade with the White Sox in the offseason.
Swisher started the season like a house afire. But he has cooled lately and has an unbelievable number of strikeouts.
At one point Swisher had struck out 18 times in 38 at bats. He is still only hitting .238, but he has socked nine home runs and has 23 RBI.
CATCHER: Any other team who lost their top two catchers within four days of one another with leg injuries would be in dire straights.
When starting catcher, Jorge Posada, went down with a hamstring pull and backup, Jose Molina, strained his quadriceps four days later, the thought was about how the Yankees could hold on until one or the other could return.
But help came from an unexpected source.
The Yankees called up Francisco Cervelli from Double-A Trenton where he was hitting only .217.
Cervelli has provided great leadership behind the plate in the absence of the usual backstops and has also provided some help with his stick.
Cervelli has drawn raves from the pitchers with the way he calls the games and he has shown a very good arm.
He is also hitting a surprising .323. His confidence and demeanor seem to be infectious and it will be difficult to see how the Yanks can get rid of him when both Posada and Molina are healed.
DESIGNATED HITTER: Hideki Matsui spent each of the last two off seasons recovering from knee surgeries, and it tells.
Matsui started anemically and has not gotten much better. One offensive spurt came after he had one knee drained of fluid.
But overall Matsui is not providing the punch the Yankees need from their DH and Girardi has begun to hold Godzilla out of games when the opposition throws a lefty.
Matsui hit a home run off Baltimore in the game Thursday night. But it was only his fifth of the season and he has only 14 RBI. He is hitting .252 and it truly seems less than that.
Some thought must be given to using Posada as the regular DH when he is ready to return and looking to shop Matsui or possibly even release him. He is in the last year of his contract and he will not be resigned after this season.
STARTING PITCHING: This was touted to be the Yankees biggest strength after they signed free agents, C.C. Sabathia and A.J. Burnett, and re-signed veteran lefty, Andy Pettitte.
Chien-Ming Wang was coming off a season-ending lis franc injury suffered running the bases in an inter-league game in Houston last June.
Wang was expected to return to the form that saw him win 19 games in both 2006 and 2007. Through the date of his injury he had won more games than any other starter over the past three seasons.
But 2009 was a different story for Wang. He had three successive horrible outings and finished his third start with an ERA of 34.50.
Wang was put on the DL, supposedly with weakness in a hip abductor muscle. But in all likelihood the team was using that as an excuse to give him more work and to refine his once deadly sinker.
Wang has now pitched several games in the minors and management seems impressed with his improvement. He is scheduled to pitch in Triple-A Scranton Friday night and may soon be on his way back to the Bronx.
Wang was replaced by Phil Hughes, another young starter who was plagued with injuries the past two seasons.
In 2007 Hughes looked great, but pulled a hamstring and missed almost the entire year.
After starting very badly in 2008 and looking for solutions that included finger nail polish for his catchers and glasses for himself, Hughes was discovered to have a fractured rib.
He was unable to pitch again in the bigs in 2008 and started this year in Triple A.
But when Hughes replaced Wang, he looked superb in his first game against Detroit, when he struck out six in six innings to get the win.
But he has looked much less than spectacular since, although his last game Wednesday night saw him achieve his second win and rack up a career high nine strikeouts.
But he was still inconsistent and gave up two home runs.
Young Joba Chamberlain has also been somewhat inconsistent. He has pitched very well at times and gotten no run support.
At other times he seems prone to timidity, afraid to attack the zone with his extraordinary ability.
Sabathia was also inconsistent early, but has recently been extremely good, earning his third straight win this week and eating up innings to save an overworked bullpen. He seems to be coming into his own as a Yankee.
A.J. Burnett seemed to be the stopper in the first two weeks of the season and great hope centered on him when the Yanks went into Fenway for their opening series with the Sox.
Burnett was matched against Josh Beckett in what figured to be a real pitchers' battle. But the Yankees touched Beckett for six runs early and it looked like they would run away and hide and give Burnett his third win.
But Burnett pitched poorly, the Sox battled back and scored eight earned runs off the big Yankee right hander. The Red Sox ended up creaming the pinstripers 16-11 in this "pitchers' duel."
Burnett has been inconsistent ever since, but this past week against the Twins, A.J. pitched six strong innings before giving up two runs in the seventh. The Yankees managed to come back and win but AJ was gone by then and got no decision.
Andy Pettitte has been the most consistent Yankee starter and is 4-1. He has pitched durably, going long into most of his games and give the relievers much needed rest when they have often been overworked in other games.
BULLPEN: Two themes come to mind here. First of all, Girardi and pitching coach, Dave Eiland seemed confused early in the season with how to use the relief staff they had assembled.
The first game in Boston was emblematic of the manager's indecision. In a game where Joba Chamberlain had pitched very well and out battled John Lester, Girardi called on Jonathan Albaladejo.
And the kid pitched very well. But Girardi took him out of the game with two outs after he had allowed him to start another batter and he had gotten a one strike count on the hitter.
Albaladejo seemed to suffer from this experience and it was worsened when Mariano Rivera came in for the rookie and Mo gave up the runs that tied the game. Boston would go on to win and Albaladejo has not been the same since.
With Brian Bruney and Damaso Marte going on the DL, the bullpen seems in a constant state of confusion.
The second theme has been inconsistent pitching, even down to closer, Rivera.
Rivera, often spoken of as the greatest closer in history, has been all of that in many games.
But he has also been much less in a few notable games.
The same has to be said of Jose Veras, Phil Coke, Albaladejo and Edwar Ramirez.
Alfredo Aceves, who was so good for New York last year, was recently brought back up and has been very consistent.
Other bullpen arms seem to be sorting themselves out and the overall effort has been better.
With Bruney returning from the DL the 'pen seems to be in better shape now than any other time during the season. And the fact that the starters are going longer and requiring less of the pen is a big part of that.
In the big picture, many parts of the Yankee machine seem to be jelling now. The offense is hitting on almost all cylinders. Jeter and Matsui are notable exceptions.
Experiments have been tried and rejected and a tried and true formula seems to be emerging that includes ARod's return and Melky's re-emergence as a star in center field.
If the picture continues in focus as it has over the most recent two weeks other teams have a lot to fear from this version of the New York Yankees.