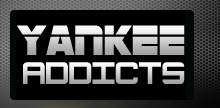 March 5, 2010 · Double G Sports · Jump to comments
Article Source: Bleacher Report - New York Yankees
As most of you know by now, the defending World Series champions have some roster questions to sort out this spring. Every couple days I will provide updates on those battles and see who has the edge at any given time.
I may throw a few extra names into the battles for comparison's sake.
To see the updated spring training stats, go to

Joba Chamberlain, Phil Hughes, Chad Gaudin, Sergio Mitre, and Alfredo Aceves battle for the fifth starter spot in the Yankees' rotation.

Curtis Granderson and Nick Johnson battle to be the No. 2 hitter between Derek Jeter and Mark Teixeira.

Ramiro Pena battles Kevin Russo, Eduardo Nunez, Juan Miranda, and Brandon Laird for backup infielder roles.

Aceves, Mitre, Gaudin, David Robertson, Mark Melancon, Jonathan Albaladejo, Chan Ho Park, and Boone Logan battle it out for spots in the Yankee bullpen.

See their updates spring performances at Double G Sports .

Read more New York Yankees news on BleacherReport.com