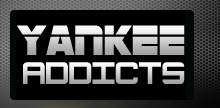 September 14, 2010 · Dan Hanzus · Jump to comments
Article Source: Bleacher Report - New York Yankees
I suppose the expected move today is to go on a rant about what a fool Joe Girardi is for bringing in Sergio Mitre last night against the Rays.
I'm supposed to be livid that David Robertson was overlooked, that Mariano Rivera was left on ice, that the unimpeachable Joba Chamberlain wasn't there to stop Carl Crawford Carlos Pena Evan Longoria Reid Brignac (Reid Brignac!?!) from sending the Yankees to second place.
I'm supposed to be furious that Girardi couldn't seem to grasp the enormity of the moment. That this wasn't just another game in a long regular season. That getting beat with your ace giving you everything he had could have ramifications that went beyond one evening.
I'm supposed to be angry about all that, and I guess I sort of am.
But then there's the business of Derek Jeter, who every night bats at the top of the lineup yet hasn't had a multi-hit game in 23 days.
There's Brett Gardner, who runs like a gazelle but doesn't always seem to have the instincts to harness that gift.
There's Mark Teixeira, whose knocked in two runs in the past 11 games and hasn't hit a homer in September.
There's Robbie Cano, whose very quietly been a .270 hitter for two-and-a-half months.
There's Lance Berkman, who Michael Kay can't stop gushing about and yet is now six weeks deep into his Yankees stopover without a single ball over the fence.
(Somewhere, Nick Johnson lays in a full-body cast thinking how he would've fit right in…)
In what you can very justifiably state was the biggest game of the season, the one through four spots in the Yankees lineup—Jeter, Cano, Teixeira, A-Rod—managed two singles in 16 at-bats.
That I am furious about.
I wrote yesterday that I believed CC Sabathia would be up for the challenge against David Price, that he would likely match the Rays ace. For eight innings, that's exactly what happened. But while Sabathia proved his Cy Young credentials once again, the Yankee offense did little more than feed into the growing concern that they've grown old and stagnant at the worst time.
In a perfect world, Andy Pettitte would be getting the ball on Tuesday, ready to stop the bleeding like he has so many times before. Instead, he continues to be a ringer on minor league playoff teams, meaning a crucial September start goes to Ivan Nova.
Expecting great things from Nova may be asking too much, and perhaps that's what Girardi was thinking when he kept his best relievers in the bullpen on Monday.
The call to the offense—unanswered on Monday—goes out again today against Matt Garza. There are a lot of big names hiding in the shadows right now. It's time for someone to step out.
Dan Hanzus writes the Yankees blog River & Sunset and can be reached via e-mail at dhanzus@gmail.com. Follow Dan on Twitter @danhanzus.
Read more New York Yankees news on BleacherReport.com