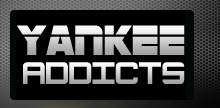 May 1, 2013 · Christopher Connors · Jump to comments
Article Source: Bleacher Report - New York Yankees
In the Yankee Universe, there's no denying that the multibillion dollar question right now is: Can they keep this up?
Yes, it's been quite a good month of April in the Bronx, by any measure.
Of course, no one knows the answer to this question. I'll preface what I'm about to say with the obvious disclaimer and reminder that it's still very early so it's probably not the greatest exercise to jump to conclusions just yet.
But here's the beauty of sports and real results. All of the sabremetricians could have told you a mere four weeks ago that Eduardo Nunez would not be very good. Same for Jayson Nix. And they're right so far.
But they also would have told you the same thing for Chris Stewart, Lyle Overbay, Vernon Wells and to a somewhat lesser extent, Travis Hafner. The problem is that Chris Stewart is hitting .294, Lyle Overbay has been far from great but very respectable given the circumstances, Wells has been great and Hafner has been outstanding.
I know, I get it. Just one month, right? Surely these players will invariably revert to the mean. But maybe by the time they do, Curtis Granderson is back. Then Mark Teixeira comes back. Then Derek Jeter eventually comes back.
And sure, given the way things seem to go these days in the Bronx, there will be even more injuries in the meantime. If we're making predictions, I hate to say it, but presumably Hafner and maybe even Brett Gardner could be up next on the disabled list.
But then Kevin Youkilis comes back and maybe he continues hitting as well as he was at the start of the year.
We can sit here and say, how long can they keep this up? But keep in mind how much adversity this Yankees team has been dealing with ever since spring training, forget just the start of the season. Injury, after injury.
Yet, they stand tall through a first month where all of the "experts" would have been laughing in your face had you prognosticated anything better than a .500 month of April. Well, it's 16-10 to be exact.
It's hard not to be a believer in the Yankees right now. There's too much track record and too many hungry players on this team that have already shown they have a lot of good baseball left in them. Yes, 84 percent of the season remains but the Yankees are hardly the only team getting production from players many thought were done.
Yankees fans can hold fast to the optimistic feeling that the current lot will hold the fort long enough for the reinforcements to come in and help carry the load the rest of the way. This team has a remarkable resolve and already has persevered through a ton of adversity.
Now, here are the player grades through the first month of the major league season.