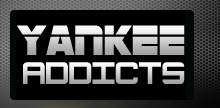 May 5, 2009 · Marisa Scolamiero · Jump to comments
Article Source: Bleacher Report - New York Yankees
Today, the Yankees placed Jorge Posada on the DL with a hamstring injury. Posada is due to be out two to three weeks, but there is no guarantee that he will be ready to go when that time comes.
Hamstring injuries are always a lot more complicated than they appear. For anyone who has ever felt that pull in the back part of the leg, it can be pretty painful. The simplest thing such as standing up or sitting down can be quite uncomfortable, so the thought of having to run the bases or crouch down behind home plate isn't very feasible.
It is difficult to say how long it will take for a player to recover from a hamstring injury. If they sustain a hamstring pull and not a tear, they get put on the DL for 15 days, but that doesn't mean they are completely cured.
They may pass their tests and be eligible to go back to playing, but a lot of the time, most players are slightly hesitant when they first come back. No one wants to land back on the DL because they pushed themselves a little too far too soon, so they are likely not to go full speed, which effects their game.
In 2007, when Mike Mussina pulled his hamstring early in the season, he spent the 15 days on the DL and was then pronounced ready to return. Mussina didn't appear to have any further trouble with his hamstring, but went on to have one of the worst seasons of his long career.
It was revealed in the book "Living on the Black" that chronicled Tom Glavine and Mike Mussina's 2007 seasons, that Mussina had never really fully recovered from the hamstring injury. He had a lot of trouble generating momentum off of his back leg, which severely effected the way he pitched. A two week injury ended up lasting a lot longer.
The Yankees have more than enough injuries to deal with.
No one is certain when Xavier Nady is going to return. Chien-Ming Wang is still trying to correct himself down in Tampa, Cody Ransom is out until at least June with a left quadriceps injury, Brian Bruney is shelved with an elbow problem, and Damaso Marte is dealing with a shoulder issue.
A-Rod is due back sometime this weekend, but there is no guarantee how well his surgically repaired hip will respond.
Now the Yankees have to deal with Posada's hamstring injury, and hopefully it isn't too much of a strain and he heals quickly. The Yankees can't afford to be without him for a long stretch of time again.
Hamstrings are delicate and if they are disrupted in even the slightest way, they can cause a lot of trouble. No injury is ever good, but you can bet that when a manager sees one of his players grabbing at the back of his leg, he is undoubtedly concerned.
Last night, Jorge Posada came up from second base holding the back of his leg, and everyone in the Yankees dugout knew the kind of trouble that could spell. One day later, Posada is on the DL and the Yankees are without their starting catcher.
Trouble? I think so.