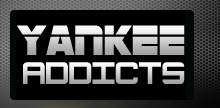 November 22, 2010 · Kate Conroy · Jump to comments
Article Source: Bleacher Report - New York Yankees
Immediately following the World Series, the New York Yankees announced the termination of pitching coach Dave Eliand, which came as no surprise.
There were many guessing games of who might be Eiland's replacement. The front-runners looked to be current bullpen coach Mike Harkey; Rick Kranitz, who has worked with Yankees skipper Joe Girardi before; and Scott Aldred, who currently serves the role in Triple-A Scranton for the last two seasons.
Fans were suggesting that David Cone, Al Leiter or Mike Mussina might bring their experience on the mound to the other side. Since none of the three have ever coached, the likelihood was slim.
Then the decision was announced that Chicago Cubs pitching coach Larry Rothschild was now bringing his talents to the Yankees.
It was a tad confusing because minimal interest had been expressed about Rothschild coming to the Bronx, as the Cubs had him signed through 2011.
The Cubs let Rothschild out of his contract stating that Rothschild wanted to spend more time near his Tampa, FL home. Since the Yankees train in Tampa, this move for Rothschild was exactly what he was looking to make.
No doubt Yankee fans should be elated to get Rothschild, who comes with 36-years of professional baseball experience and also coached Girardi as a player in Chicago back in 2002.
Rothschild has a reputation of being a noteworthy communicator, who does his homework but continually does the extra-credit. A lot of the qualities that Girardi brings as a manager, so Rothschild should fit perfectly on the staff.
As part of the interview process, Rothschild had to analyze video on AJ Burnett and give in detail how he would fix the Yankees pitching staff's black sheep.
Considering Rothschild had just finished his eighth year helping the Cubs, last season's correlation of hotheaded and unpredictable Carlos Zambrano might have helped in his answers.
Rothschild also made it clear that his motto is "repeat deliveries," as it leads to better location and control. Well, lucky for Rothschild that Burnett is the poster child for disaster on the mound and his theories will be tested from every situation.
This move is a positive one for the Yankees, as obviously Eiland was having off-the-field issues that were more important and distracted him from doing his job.
Rothschild has coached twice on World Series Championship teams in 1990 for the Cincinnati Reds and in 1997 for the Florida Marlins. This definitely played a factor for the Yankees, who like guys who have been to the big stage and had success on it.
In his first day in pinstripes, Rothschild called each pitcher to schedule training dates prior to the start of 2011 Spring Training.
Hey, nothing feels better than hiring a real go-getter. It would seem that Rothschild wasn't going to waste a minute.
Trust me, Rothschild has his work cut out for him with Burnett alone.
Without a doubt, all we know is that Rothschild knows how to win, and that is what Yankee Universe likes to hear.
Read more New York Yankees news on BleacherReport.com