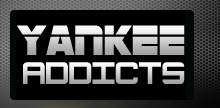 April 13, 2010 · Joseph DelGrippo · Jump to comments
Article Source: Bleacher Report - New York Yankees
The primary reason why athletes play the game, any game, is their competitive fire drives them to win. What helps drive the Major League baseball player is to obtain the World Series Championship ring.
Before player salaries became obscene, the players loved that World Series share or money. Many times it was more than what the individual players earned for that entire season! Once the players become elderly and money is not really an issue, the one thing which remains is the hardware; something to show everybody that you were a part of a championship team.
Interestingly, even though the New York Yankees have won the most World Series rings, the World Series ring was initially given as a reward after the 1922 World Series , a 4-0-1 sweep by the New York Giants over the Yankees. Before that, the players usually received watches, pins, tie clips, and other assorted popular trinkets.
The rings were such a hit that a few other teams followed suit and gave rings to their players. Eventually, beginning in 1931 with the St. Louis Cardinals, the World Series ring was the primary player reward.
For a complete view of all the World Series Rings, click here .
That 1922 World Series was Babe Ruth's second World Series appearance for the Yankees, the first coming the prior season with both series resulting in losses to the rival Giants*. After clubbing 94 home-runs during those two regular seasons, the Babe hit a combined .212 with a single home run for the Yankees in those two Series.
Imagine if Ruth did that today? Similar to Alex Rodriguez, he would be branded by the blogosphere as non-clutch and unable to perform "when it counts."
Ogre/Goon would then claim that Ruth was another over-hyped Yankee who was destined to fail. In fact, research has indicated that at the time, Ogre's great-grandfather did say Ruth was a bum!
*In both those series, all games were played at the Polo Grounds, at the time was home field to both the Giants and Yankees. Yankee Stadium was under construction and would open the next season on April 18, 1923 .
The Yankees will receive their 2009 World Series Championship rings today, April 13th, 2010, less than an hour before the Yankees take on the Los Angeles Angels in their 2010 home opener.
One of the heroes (in fact he was voted the 2009 World Series MVP) for the Yankees was Hideki Matsui, a Yankee for the only seven seasons he played in the U.S. Major Leagues. Matsui is beloved by Yankee fans ever since "Godzilla" signed as a free agent back in 2002, well before his 2009 World Series heroics.
The 2010 schedule was announced last September, three months before Matsui signed with the Angels as a free agent. While this bit of happenstance is interesting, it does allow Matsui to celebrate his eighth Yankee Stadium Opening Day.
It also allows Matsui to receive his World Series ring, his first championship ring, with his 2009 teammates. Along with Derek Jeter, Mariano Rivera, Andy Pettitte, Jorge Posada, and even A-Rod, Matsui will get a huge standing ovation.
However, it would not be his first Yankee Stadium Opening Day standing ovation.
Matsui began his Yankee Stadium career in grand (slam) fashion, hitting a fifth inning grand slam to help the Yankee win that rainy 2003 opener, a 7-3 over the Minnesota Twins. I remember picking my then five-year-old son, Joseph, from school and getting back home just in time for Matsui's blast.
For the record, moments before it occurred little Joe did call that grand slam, and Matsui became one of his favorite players.
Many Yankee fans today would agree with that sentiment.
Enjoy Opening Day!
Read more New York Yankees news on BleacherReport.com