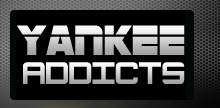 April 23, 2009 · Rebecca Glass · Jump to comments
Article Source: Bleacher Report - New York Yankees
With today as an off day, I thought it'd make sense to go through and address the Yankees, and issues surrounding the Yankees, thus far.
We're only in Week Three of the season, so many issues now may not actually be issues over the long run, while other larger issues have yet to reveal themselves.
First, the lineup.
As a whole, the Yankee offense has been largely dependable. They have scored four or more runs in all but one game, and that includes the 22-4 and 15-5 losses. Whatever the faults of the pitching in those games, the offense, by and large, did its job.
There are some concerns about the ability to score with RISP, but I still think it's a little too early to be overly concerned. Perhaps a little concern, but I think it was a much bigger issue last year when the offense struggled to score runs at all.
It's also worth remembering that the Yankees have not had A-Rod in the line up yet this season, and they have been performing without Xavier Nady's bat for a week, and they've still won more games than they've lost.
Derek Jeter
He was mired in a mini-slump of sorts to start the season, but whereas last year it took him until May to notch his first home run, this year he has four already. You can't even argue it's the new Yankee Stadium's fault, as the Yankees have played more games on the road than at home.
Jeter's always had a knack for being clutch, but it seems, perhaps this year more than others, he is providing the right hits at exactly the right moments.
Johnny Damon
Seems to be doing fine as a two-hitter. At the very least, he's not GIDP'ing, which was the worry with Jeter in the spot.
He still has the eye of a leadoff man, and between him, Teixeira and Swisher, some of the younger guys may never know what it means to swing at a first pitch.
Mark Teixeira
Teixeira has admitted to being a slow starter, and his .222 average points to him being a man of his word. Even with the low average, however, he still has nine RBI.
And if you haven't noticed his awesome defense, dude, you must have never watched the Yankees with Jason Giambi.
Jorge Posada
Shoulder? What shoulder? He is playing as though 2008 was just an illusion, picking up right where he left off in 2007. Despite his .286 average, he is tied for the team lead in RBI with Nick Swisher (yes, you read that right), which suggests that he's making the hits he does get count.
What's more, and I'm not sure if anyone else has noticed this, his throwing arm seems to be stronger than it was back in 2007, when it was supposedly healthy. I know 37-year-old arms aren't supposed to magically get better, but in the world of baseball, that is hardly the strangest thing to have ever happened.
Robinson Canó
What a difference a fast start makes! Last season, he got into a hole he could not get out of. This season, he is playing like the all star everyone expected him to be. Whatever the wake up call, whether it was the benching or not, it worked.
He's still not hitting a ton of home runs, and he probably never will, but getting on base is still getting on base. Right now, by leading the Yankees in hits and BA, and second (again, to Swisher) in OBP, he seems to be doing that just fine.
Nick Swisher
Most people guessed that Swisher's year last year was simply a fluke, except, apparently, the White Sox. You probably can't call Swisher-for-Betemit one of the most lopsided trades ever, since it's not, but through the first couple of weeks it certainly seemed like it. Even while Swisher's BA comes back to earth, he still leads the team with a .433 OBP because, hey, a walk's as good as a hit in this game.
He is perhaps not the greatest right fielder in the history of the game, but given everything else he's given the team this year, from his rock star personality to his 0.00 ERA, it seems not to matter so much.
Anyway, since every ball that's been hit to right field at the new Stadium seems to be a home run, you could probably put an ornamental fountain in right and not even notice.
Hideki Matsui
Mired in an awful slump at the beginning of the year and looked awkward and uncomfortable at bat, but of late seems to be coming out of it.
An effective Matsui, even if just as DH, is an invaluable resource and depth-stretcher for the Yankees. Right now he looks best not playing every day and that may simply be what the Yankees need to do to keep him effective.
Brett Gardner
All you usually ask of your nine hitter is to not be an automatic out. Gardner, for the most part, is complying.
If he had just that little bit more power it would be all things awesome, but as it is, he provides speed on the bases and gets on base just often enough to matter.
Cody Ransom
The anti-Brett Gardner, or so it would seem. It'd be one thing if he was a pitcher and then a team could carry his non-existent bat, but as it is right now the answer to the question "why do you miss Alex Rodriguez" can be summed up in two words: "Cody Ransom."
Dude's got a mean vertical, but he hasn't even played the type of defense you need for a 3B and that probably explains why he is a career minor leaguer.
José Molina
Just as he was last year, all catch and no hit. Once Alex Rodriguez comes back the no-hit bit may not be such a big problem, but right now the Yankees can't really afford to keep both him and Ransom in the same lineup.
However, with A-Rod due back in a week, I am fairly certain the Yankees will survive.
Melky Cabrera
All you need to know is that despite hitting two HRs yesterday, he still struck out twice including once with the bases loaded and nobody out, where he swung at a pitch way, way out of the strike zone. He has pockets of brilliance but hasn't (yet) shown enough to be the everyday starting CF, especially after last season.
Still, it's far too soon to give up on him. If Canó can turn it around, than maybe so can Melky. His ceiling isn't nearly as high, but it really won't take much for him to be better than he was last year.
Xavier Nady
Nady is the guy whose bat you never notice when it's in the lineup, but made all the more noticeable by its absence. Losing his bat may not have the same repercussions as losing Teixeira's bat or Posada's bat, but it would be folly to think that there are none.
Lucky for the Yankees, he supposedly doesn't need surgery and with luck will be back before the fourth of July.
Ramiro Peña
Billed as all-glove and no-hit, and so far, in his limited appearances, has lived up to exactly that. I wouldn't mind seeing him kept on the roster for late-inning defense once A-Rod returns, but he would benefit more by being sent down and getting a chance to play every day.
Next, the starting pitching.
Thus far, the starting pitching has varied from being so-horrible-it-would-be-comical-if-it-wasn't-so-horrible to pure clinics that all high-school players should be told to watch.
The horrible starts are almost all the responsibility of one Chien Ming Wang, while right now Andy Pettitte, who has been as solid as he's ever been, and AJ Burnett, who varies from spectacular to spectacularly wild, are carrying the rotation.
For their parts, CC Sabathia and Joba Chamberlain are both doing enough to give the team a chance to win every time they are out there, even though the bullpen has, on more than one occasion, rendered them decisionless, and not in a good way.
In other words, with the exception of CMW, there is no need to worry too much about the starting pitching. CC and Joba should only get better, and if Andy and AJ keep doing as they are doing, there is no reason this team shouldn't win four of every five games.
CC Sabathia
As his 13.50 ERA last April would attest, this simply isn't his month. His start yesterday was actually worse than his Opening Day gig in terms of runs allowed, but the Yankee offense bailed him out every step of the way so one might be forgiven if he or she doesn't notice.
Still, the Yankees have won two of his four starts and in all likelihood should have won a third, and that's what a true ace does—give you a chance to win, even on his bad days.
Chien Ming Wang
Ayayay. IMO, it's probably still the foot—MLB TV had a great piece on how his delivery's altered because he won't put the same pressure on his injured foot—but now one has to ask if there's a confidence issue as well. Guys that win 19 games two years in a row don't suddenly forget how to pitch; there is an underlying cause somewhere.
He will get back to normal eventually, but for the moment the Yankees have to play as if he won't.
AJ Burnett
AJ is just really fun to watch, even if he's walking seven in a game. He's been the Yankees' stopper every step of the way, and while that's not necessarily fair to him, he is excelling in that role.
He will lose a game eventually—even Cliff Lee did last year—but until he does, one can just sit back, relax and enjoy it. His start against Boston on Saturday should be great baseball.
Andy Pettitte
Over the offseason I kept saying that it would be foolish to expect Pettitte to pull a Mike Mussina in 2009. I was right, except I was wrong.
Pettitte hasn't exactly pulled a Mussina—he was never as bad in '08 as Mussina was in '07—but he was pitching on a sore shoulder (apparently) and at the end of '08 it showed. Now that he's healthy again, he's pitching like vintage Pettitte, getting the outs when he needs them, never trying to do too much, and backing up AJ's starts with poise and awesome Pettitte-ness.
Joba Chamberlain
What does the poor kid have to do to get a decision? Okay, so we're only three weeks into the season.
But hey, you know what? He's doing exactly what your fifth starter should do: giving the team a chance to win, and he will (or should, anyway) only get better from here on out.
The argument now isn't whether or not he has the 'stuff' to be a starter but whether or not his arm can hold up, thus the innings limit. So far, so good.
Next, the bullpen.
Bullpens are finicky things. One year they're fine, the next they're not and you, dear GM, may have not even lifted a finger.
In 2008 Girardi was almost universally praised for his handling of the bullpen; in 2009 he's getting chided for micro-managing and thus invariably running into the one 'pen guy of the day that simply doesn't have it.
Still, for every 15-5 or 22-4 loss, there's the 14-inning win without a bona fide long man.
What this means is that right now, it is utterly impossible to make any sense out of the bullpen. They're either being really really good or really really bad, and not really much in between. Go figure.
Jonathan Albaladejo
Has mostly been great. The one bad outing is, alas, the one you tend to remember, but he seems to be turning into a very dependable arm from out of the bullpen. He started the season fairly low on the bullpen ladder, but is working his way upwards.
Edwar Ramirez
I haven't seen a whole lot of him this season. Maybe it's just that I'm missing the games where he comes into pitch, I don't know, but the old rules with him seem to be in force: when someone guesses right on the change up, it's usually a home run, and he's pretty much okay as long as he's not facing the Angels.
Phil Coke
Had a rough—and I mean rough—start to the year, but he has seemed to calm down in his more recent appearance. Could it be nerves? I still think he needs some more time before we can pass judgement on him.
At any rate, he's another lefty out of the pen, and one seemingly much less fragile than Dámaso Marte.
Dámaso Marte
May yet be okay, but his struggles right now are a little worrying given that he is supposed to be the lefty specialist. It's a little to reminiscent of Mike Myers in 2007. However, he's signed for three years (and probably really glad he signed when he did), so whatever's going on, the Yankees will try to fix.
José Veras
Yesterday's three inning stint could be billed as the redemption of José Veras. He has filthy, nasty stuff when his command is there, but as we all know, that's not always the case. With luck, yesterday's affair got him back on track.
If he's pitching well, and Bruney and Mo do their thing, the Yankees are back to six-inning games—and we know how well that turned out the last time they could do that.
Brian Bruney
Has become the go-to eighth inning guy. Something happened between 2007 and 2008 where he made himself over, and one could very easily see 2009 as a progression of what he was doing in 2008 at the very beginning and end of the year when his foot was healthy.
He's probably bound to give up a lead sometime, as every reliever is, but what will be more telling is how he bounces back. For the moment, he has made the set-up decision much easier for Girardi and co. to make.
Mariano Rivera
So I want to say he seems to be getting hit a little more this year than last year, but last year was so unbelievable that he'd have to be utterly perfect not to be getting hit more.
What matters is that he hasn't walked anyone or given up a run, and given that he always seems to struggle a bit in April, before it really gets warm out, there's no sense worrying.
He pitched a scoreless inning in a tie game yesterday, which might even suggest that he may yet be better this year than last year.
Finally, we have other Yankees issues.
Empty seats at Yankee Stadium
If the Yankees haven't taken notice that no one can afford the $2500 seats behind home plate, they probably should, and soon.
However, before one freaks out about empty seats in the rest of the Stadium, please remember it's April. The weather's still more crap than nice in New York and school is still in session. If the seats are still this empty in June, then the Yankees have a major issue.
Another question: Why haven't they sold the SRO tickets yet? Granted, it's only recently that the Yankees were selling out each and every game. They probably would still be doing so this year if not for that nasty little thing called the recession.
The Bandbox
There are all sorts of reasons for the home runs flying out of Yankee Stadium. The answer is probably a little bit of everything—sloped angle of the seats, a wind tunnel created by the old Stadium in the background, running into a very good Cleveland lineup (even if their record indicates otherwise), and, until the last couple of days, exceptionally dry air.
Again, it's early. If the home runs are still flying out like this in June, then eyebrows should be raised. I don't mind the home runs, but in the long run it could be harmful towards building a pitching staff—just look at the Rockies.
So that's it for now. Enjoy the off day.