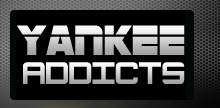 October 23, 2010 · Kate Conroy · Jump to comments
Article Source: Bleacher Report - New York Yankees
Free agency. It is what consumes GMs, owners, players and fans during baseball's offseason.
This free agent market looks to rival that of 2008-09, when the New York Yankees went on a shopping spree scooping up CC Sabathia, Mark Teixeira, AJ Burnett and Nick Swisher.
Names like Cliff Lee, Carl Crawford, Carlos Pena, Jim Thorne, Derek Jeter, Josh Beckett, Mariano Rivera, Victor Martinez, Adam Dunn, Jayson Werth, Derrek Lee, Jorge De La Rosa, Brandon Webb and Javier Vazquez are all on the market.
Rivera and Jeter will stay in pinstripes, as they are the face of the Yankees and are vital elements to New York's allure. Yankees ace Sabathia waived his opt-out clause to stay in New York through 2016.
Same story goes for Boston Red Sox starting pitcher Josh Beckett. Beckett is the leader of the Red Sox pitching staff, which has a lot of young talent that look up to Beckett, which means his recent back problems get over looked.
The same cannot be said for starting pitcher Javier Vazquez, whose second time around as a Yankee was even worse than the first. Neither side should want to continue this relationship because it has not benefited either. Vazquez will get offers; my guess would be mainly from National League teams.
As a Yankees fan, GM Brian Cashman first order of business should be to pick-up the option for Kerry Wood. Wood was the best pick up of the year by Cashman and he has electric stuff out of the bullpen, as well as a nice mentor to Joba Chamberlain whom the Yankees owe at least another season to straighten himself out.
Second priority, at least I hope, is that Cashman goes after Phillies outfielder Jayson Werth. Werth's attitude, bat and personality are a perfect fit for the Yankees. Werth is a big-game clutch hitter, he can steal bases and would be a nice addition in the outfield next to Curtis Granderson.
A question remains about who would not start, Brett Gardner or Nick Swisher, if the Yankees did get Werth.
Swisher hits power, but Gardner is a pest with his legs as he is fast as hell on the basepaths. Both are known to draw long at-bats and have great eyes at the plate.
Swisher and Gardner sharing time would be a nice option for the Yankees manager to have at his disposal because Werth and Granderson will both start for the majority of the time.
Starting Pitcher Cliff Lee's arm will be the 2010-11 offseason's prize for sale. Everybody wants a piece of Lee because he is that good, but he is 32 years old and has suffered from back problems.
The Yankees don't need another pitching arm of that caliber, but that is not why Lee won't come to the Bronx. To be honest I don't think Lee wants to be a Yankee. The Yankees need a bat like Werth to help the aging lineup and a four-man outfield of Swisher, Werth, Gardner and Granderson is solid.
I fully realize that Rays' Carl Crawford is a dynamite player and will be coveted by many teams. Crawford in pinstripes doesn't work for me. Yes, Crawford's numbers are ridiculously good, but he is young will cost more money and years than Werth. Plus, Brett Gardner is maturing and the Yankees would be dumb to let him go anywhere, just to load up on all-stars.
Another factor is how the new Yankees ownership of Hal and Hank Steinbrenner without "The Boss" in the background any longer with the final say. Let's see how deep Mr. Steinbrenner's sons' pockets are in comparison to dad's generosity.
Read more New York Yankees news on BleacherReport.com