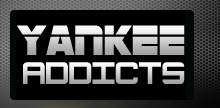 October 7, 2010 · Bronx Baseball Daily · Jump to comments
Article Source: Bleacher Report - New York Yankees
Last night's win over the Twins was exciting, but attention must immediately turn toward tonight's matchup of Andy Pettitte against former Yankees disabled list mainstay Carl Pavano.
Here are some notes:
We found out yesterday that Mark Teixeira had a cortisone shot in his hand a couple of weeks back. Brett Gardner and Nick Swisher also had shots in September.
It sounds like A.J. Burnett may serve as short relief out of the bullpen. Joe Girardi said his only restriction would be that he wouldn't pitch back-to-back days but left open the possiblity that he could come in mid-inning with runners on.
Mariano Rivera now has 40 postseason saves, 31 of them have been more than three outs.
There is a report that said Girardi could be more interested in a job managing the Cardinals than the Cubs. I don't buy it.
That's all there is for now. I'm sure there will be more updates throughout the day, and I'll have the pitching preview before the game starts as well. So be sure to keep coming back throughout the day.
And as always, we'd love to hear your comments and questions so don't hesitate to leave some love.
Related Stories
Read more New York Yankees news on BleacherReport.com