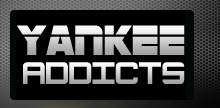 April 25, 2010 · Bronx Baseball Daily · Jump to comments
Article Source: Bleacher Report - New York Yankees
According to Chad Jennings of the Journal News, Yankees designated hitter Nick Johnson has a stiff back and isn't expected to play today, but after an off day on Monday should be back in the lineup Tuesday.
Johnson, who has been struggling, to hit, was taking extra batting practice Friday and as a result has a stiff back that caused him to miss yesterday's game. It is a minor injury and initially they thought he could play today, but by the end of the day yesterday Girardi said that it hadn't improve as quick as they hoped it would and decided he's going to get an extra day of rest. Like I said above, he's expected to be back in the lineup Tuesday.
This doesn't seem like anything serious at all, but the fact that it is Nick Johnson and that it's already taken longer than they thought it would means it might linger. The Yankees are saying Tuesday so he should be out there, but don't be surprised if he misses an additional game or two.
Related Stories
Read more New York Yankees news on BleacherReport.com