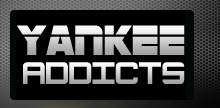 October 12, 2010 · Bronx Baseball Daily · Jump to comments
Article Source: Bleacher Report - New York Yankees
Sorry for the lack of updates, but I've got enough now to hold you over for a while. The Yankees haven't announced any roster changes yet. They are waiting until October 12th's Rays-Rangers game to find out whom they are playing before they do that. They did play a simulated game today to stay sharp so I'll have updates on that and more. Here we go.
Simulated game notes:
Other notes:
No word yet on whether Francisco Cervelli will catch Burnett or not. The current official stance is that they are discussing it.
Phil Hughes said he could have pitched on short rest.
Joe Girardi said he didn't want Hughes to start on short rest because he's never done it before.
They are also concerned with Andy Pettitte because of his age and recent groin issues.
The order of the rotation hasn't been announced, but pitching coach Dave Eiland said that it doesn't matter whoever starts Game 2 or Game 3 as it will have no effect on who starts Game 7.
The schedule for the ALCS was released today. Surprisingly the Yankees don't have every prime time slot. Game 2 on Saturday and Game 5 on Wednesday will be at 4:00 pm.
Damaso Marte is officially done for the season and is likely to have shoulder surgery. No word on whether or not he'll be ready by spring training.
Let's all hope that just because Vazquez and Gaudin are throwing a simulated game tomorrow it doesn't mean they will be on the ALCS roster.
Enjoy the Rays-Rangers game. I'll be watching as it features a pretty impressive matchup of Cliff Lee vs. David Price.
Related Stories
Read more New York Yankees news on BleacherReport.com