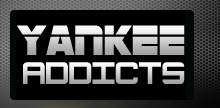 October 11, 2010 · Bronx Baseball Daily · Jump to comments
Article Source: Bleacher Report - New York Yankees
The Yankees took yesterday and today off and won't begin working out to prepare for the ALCS until tomorrow, which is also when they will find out who their opponent is.
The Rays and the Rangers are currently tied at two games apiece and wrap up their series tomorrow night.
Here are some notes:
That was the first time the Yankees advanced past the first round of the playoffs as the wild card.
Phil Hughes had a lot of success in the ALDS. He did it by throwing fewer cutters, sticking primarily with the fastball.
Joba Chamberlain didn't pitch at all against the Twins. The Yankees said it was just due to matchups being more favorable for David Robertson.
Derek Jeter got a hit in all three games against the Twins, extending his playoff hitting streak to nine games. He has hit in 18 of his last 19 games, reaching base in all 19.
Tomorrow night's Rays-Rangers game will feature both teams' aces, David Price and Cliff Lee, which benefits the Yankees because neither will be available to pitch in Game 1 of the ALCS.
Manager Joe Girardi has not said anything about A.J. Burnett returning to the rotation or even being on the roster in the ALCS.
The next big news item we will get is what the ALCS rotation will be and what the roster will be. If the Yankees go with a three-man rotation, that will mean four of the starts will be made on short rest.
The roster questions rest on who exactly they are playing and whether or not they want more pitchers in a longer series. Greg Golson would be the most likely cut if they go with more pitchers, but it could be Austin Kearns, who did not play against the Twins, as Girardi has been sticking with both Brett Gardner and Curtis Granderson against lefties.
Related Stories
Read more New York Yankees news on BleacherReport.com