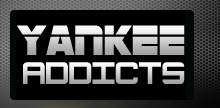 March 26, 2010 · Adam Bernacchio · Jump to comments
Article Source: Bleacher Report - New York Yankees
Believe it or not, the New York Yankees have had a very quiet offseason. There has been nobody busted for steroids, the manager isn't on a short leash, and there is no drama surrounding the team.
And in other news of the bizarre, the University of Kentucky has dropped their basketball program.
Just because the Yankees have had a quiet offseason by their standards, doesn't mean things are happening in Yankee land. Here are some news and notes from Yankees' camp.
Phil Hughes is named No. 5 starter
In an unsurprising move, manager Joe Girardi has named Phil Hughes his No. 5 starter. Joba Chamberlain will move to the bullpen.
So let me understand this. Everyone knew that Chamberlain was better suited for the bullpen, but the Yankees force Chamberlain into a starting role, come up with the "Joba Rules," which made a mockery of the term "starting pitcher," and then put him back in the bullpen a year later?
What was the point of the Joba Rules? What a joke.
Hughes has had a decent spring, posting a 4.15 ERA with 10 K's in 13 innings. His upside as a starting pitcher or any type of pitcher for that matter is much greater than Chamberlain's.
Hughes should be a decent No. 5 starter for the Yankees, but he is going to have to do better than his 5.22 career ERA as a starter to stay in the rotation for the entire season.
Chad Gaudin was released
With Hughes securing the No. 5 starter spot, there was no room on the roster for Gaudin. Gaudin was placed on waivers on Tuesday and was officially released yesterday.
The 27-year-old was pretty serviceable in a Yankee uniform last year posting a 3.43 ERA in 42 innings while striking out 34. I am pretty confident he will land with a team rather quickly.
I will bet he ends up with the New York Mets or Los Angeles Dodgers.
Marcus Thames is really struggling
Thames was brought in to be the Yankees' right-handed hitter off the bench against left-handed pitching. If he continues to hit like he is in spring training, he won't get any AB's during the regular season no matter what hand the pitcher is throwing with.
Thames is hitting .107 this spring with 11 K's in 28 AB's. That won't cut the mustard with the Yankees. With both Brett Gardner and Randy Winn stinking it up this spring as well, Thames is in no danger of being released.
You can follow The Ghost of Moonlight Graham on Twitter @ theghostofmlg
Read more New York Yankees news on BleacherReport.com