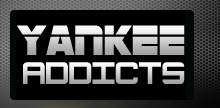 October 4, 2010 · Bronx Baseball Daily · Jump to comments
Article Source: Bleacher Report - New York Yankees
The New York Yankees wrapped up their season yesterday. They don't play again until Wednesday night against the Twins in Minnesota. We won't really have too much end of the season type stuff until they are out of the playoffs, but we will have a few items and a bunch of previews. So be sure to check back here often.
Until then, here are some news items:
I like that signing. The bullpen is easily the most volatile spot on any major league roster. Nobody could have foreseen the type of season Boone Logan has had, but he might not be the same in 2011. This gives the Yankees a third lefty relief option behind Damaso Marte next season.
Also, the Tigers not getting involved with Lee is probably not that big of a deal. The Rangers will be flush with money and are clearly motivated to resign him. That is going to be the biggest obstacle in bringing in him.
Related Stories
Read more New York Yankees news on BleacherReport.com