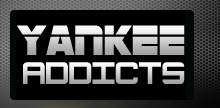 April 20, 2009 · Perry Arnold · Jump to comments
Article Source: Bleacher Report - New York Yankees
After the Saturday debacle when they were beaten by the Cleveland Indians 22-4, the New York Yankees made a roster move to add yet another bullpen pitcher to their team.
Rookie Steven Jackson was brought from Triple A Scranton to give them another arm in a pen that has been overworked and overwrought through the first thirteen games of the season.
But with the addition of this pitcher, the Yankee bench got even weaker.
Juan Miranda had been added to the team last week when Xavier Nady went down with an elbow injury. Miranda saw limited action late last season but impressed with his glove work around first and also with his bat.
But when Jackson was called to the big club, Miranda was optioned back to Scranton.
That leaves a Yankee bench that is shallow to say the least.
Right now the bench consists of outfielder, Melky Cabrera, infielder Ramiro Pena and catcher, Jose Molina.
Cabrera can play any of the outfield positions and has hit .294 with two home runs in very limited action this season.
Pena is very good with the glove and has started a few games at third base to spell Cody Ransom who himself is spelling Alex Rodriguez until the star comes off the disabled list.
But Pena has not hit much better than Ransom, both below .200 and nothing much more can be expected of them. Pena had never seen a game above the Double A level until he made the big team coming out of Spring Training.
Molina is an excellent defensive catcher, has been a very good influence on the staff, in particular AJ Burnett, but cannot hit.
The shallow bench dries up almost completely when consideration is given to the fact that DH, Hideki Matsui, has started very poorly this season and is apparently still very much bothered by injuries to his knees.
Matsui has required knee surgery each of the past two years and watching him try to run is almost painful to spectators. He provides no punch at the plate and if he cannot play and another player has to take his place as DH, the bench almost ceases to exist.
If Posada is the DH the team is left with only Cabrera and Pena as effective subs. But Pena is no threat as a bat.
If Posada is catching and Swisher were put at DH and Cabrera inserted in the outfield, Molina and Pena are no threat as pinch hitters and Molina is certainly not going in to run when speed is needed.
When ARod gets back in four weeks or less, the Yankees will have some choices to make. But even with ARod back, they have to have a backup infielder, which means either Ransom or Pena stays or they go out and get someone else.
All four of the current outfielders throw left handed. None of them is even an emergency fill in anywhere other than first.
If Ransom or Pena stays and Matsui is rotting on the bench, you still have three anemic bats on your bench.
Brian Cashman has to find a solution.
There are many good pitchers in the Yankees organization. And there are some highly prized position players as well.
It is time to use some of these as trade bait to bring somebody to the team who can provide some real help if a regular needs a day off when the Dog Days get here or heaven forbid if a regular position player gets nicked up and has to sit for a couple of days but can't go on the DL.
Help is needed very badly right now for the Yankee bench.