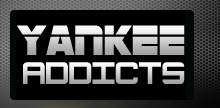 March 23, 2010 · Bronx Baseball Daily · Jump to comments
Article Source: Bleacher Report - New York Yankees
In case you missed it, the biggest news of the morning is the Yankees decision to waive Chad Gaudin, thus eliminating him from the fifth starter competition and probably from the team altogether.
Here are some other news items of note:
Jon Heyman wrote a column on Carl Crawford and he had a quote that the Yankees "absolutely love Crawford" and we should expect him to be the team's no. 1 target next offseason. He also said that the Rays had been trying to lock Crawford up all offseason, but failed to do so making it seem likely that Crawford is destined for the free agent market.
The Yankees cut a pair of utility infielders yesterday who were fighting for a bench spot on the Yankees roster, Eduardo Nunez and Reegie Corona . That leaves just Ramiro Pena and Kevin Russo as the final two utility infielders left in camp. Many people have assumed Pena will get the job, but I've always thought Russo had a better chance than people let on. Could he make the Yankees roster over Pena?
Alex Rodriguez will met with federal investigators this Friday in Buffalo, NY. He is just a witness in a case and is seemingly in no danger of being prosecuted for anything. Of course there is always perjury, so hopefully he'll be good. We should also be hopeful that this will be the only time he has to talk with Feds and that this won't carry over into the season.
Related Stories
Read more New York Yankees news on BleacherReport.com