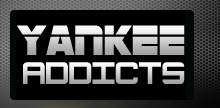 February 25, 2010 · Bronx Baseball Daily · Jump to comments
Article Source: Bleacher Report - New York Yankees
The Yankees had a couple of minor league pitchers go down with some major injuries last season, like Dellin Betances, Alan Horne, and Jairo Heredia among others.
Chad Jennings of the Journal News had some updates for us yesterday that were important enough to pass along.
Alan Horne, coming back from a variety of arm issues the past two years, is ready to pitch right now, but the Yankees haven't decided where he'll open the season.
Jairo Heredia, coming back from shoulder problems, is also ready to pitch and was in Tampa before going home to the Dominican Republic because his mother is sick. Contreras expects him to be ready to open the season.
Dellin Betances, coming back from elbow surgery, will begin throwing off a half mound either this week or next week.
George Kontos, coming back from Tommy John, will be ready to throw off a half mound in March when minor league camp opens.
Brett Marshall
"I'm on my throwing program right now. I believe this is week twelve and it's a sixteen week throwing program. Once that gets through I'll take a week off then get back to throwing on flat ground or off half mounds.
"I'm hoping to be back on the [full] mound by the end of March. I won't be ready for games until the end of May or June."
Thoughts
Alan Horne is probably the most interesting name on this list right now because he's the only one ready right now. Horne was a decently high prospect at one point, but it seems like he hasn't pitched in forever. If he had been healthy, things might have been really different (Sidney Ponson might have never pitched for the 2008 Yankees).
He's healthy now and if he can stay that way, he's going to be interesting. If he can regain his abilities from 2007 he is probably as good or better than Sergio Mitre and possibly as good as Gaudin.
So we'll be keeping an eye on him early this year. It has been a while since he's been able to pitch though, he threw 39 innings in 2008 and 33.1 last year, so it could take him quite a while to fully regain his form if he can at all.
The others on the list are further away, but we will bring you updates when necessary. Questions? Comments?
Related Stories
December 31, 2009: Newman's Notes on Yankees Prospects (0)
February 21, 2010: Best from Around the Yankees Blogosphere (3)
January 1, 2010: John Sickels Ranks the Yanks (0)
Read more New York Yankees news on BleacherReport.com