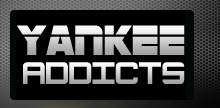 October 6, 2010 · Kate Conroy · Jump to comments
Article Source: Bleacher Report - New York Yankees
Part one and two covered statistical comparison, as well as the pros/cons for the upcoming New York Yankees-Minnesota Twins ALDS; finishing off with part three, which will be my prediction of who will win. Remember it is just three of five games in the first round of the MLB postseason and this length makes it all the more challenging.
Who Will Win the ALDS, Yankees or Twins?
Let's start by reminding anyone reading this that I am a New York Yankees fan.
I am also a realistic writer who loves the game of baseball.
So as much as my loyalty will always be with the Yankees, I can't change whether they're capable of winning or losing.
For the upcoming ALDS between the Yankees and Twins, it would be idiotic to not favor New York to win in four games.
Without a doubt, when the two teams have faced each other in the past the Yankees have been favored. However this cannot be the only reason to choose one team over the other, nor can the Yankees' wild-card history be a factor as they are a totally different team now. The only relevant stat is the 2009 postseason sweep of the Twins, as it was too recent to overlook.
The whole media smear campaign against New York is expected and the non-stop ripping of the Yankees pitching staff is not unwarranted, but exaggerated considering the opponent.
Ex-starter AJ Burnett is such a mess that he will be in the bullpen for this series.
Andy Pettitte has been injured for almost the entire second half of the regular season. Since returning, Pettitte has made two starts and neither have not brought anything but more "Oh, s*i%" instead of some needed confidence the team was aching from the southpaw. Pettitte gets the benefit of the doubt because he well deserves it considering his postseason career consists of an 18-9 record, over 250 innings, striking out 164 tough bats and 3.90 ERA.
With Pettitte moving behind Yankees ace CC Sabathia in the No. 2 spot, Game 3's starter is Phil Hughes. Hughes has pitched 90 innings more than ever in his career this season. Hughes struggled with his command at points, but not once did he pitch less than five full innings and that is all he needs to do on Saturday.
In this series the Twins pitching is in worse shape than the Yankees.
Carl Pavano is their most solid pitcher because Francisco Liriano doesn't throw enough strikes, and that only helps the patient Yankees at the plate.
Also, Liriano gets overly excited in big regular season games, where his emotions get the best of him. The Twins are concerned considering it's Liriano's first postseason start ever. Still, the reward is well worth the risk because if Liriano can stay calm, he has ability to shut down entire lineups.
Another "advantage-Yankees" is that the bats are as good as it gets.
The only big concern was Derek Jeter. This has faded out, as the captain started hitting like himself again. Jeter is also a postseason superstar who is lethal as the leadoff batter.
This is what the Yankees want to do and it would be shocking if they didn't accomplish it in this series. For me to get overly concerned about the Yankees, it would entail heading home without a win.
What I Think Is Most Critical
Winning Game 1…as it will serve as a major boost because both teams need it more than in the past.
Finally, I want to finish by saying:
"MY SINCEREST CONGRATULATIONS TO EACH OF THE EIGHT TEAMS IN THE 2010 POSTSEASON!! GOOD LUCK TO YOU ALL…xoxo lady loves pinstripes."
Read more New York Yankees news on BleacherReport.com