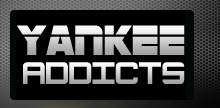 October 4, 2010 · Kate Conroy · Jump to comments
Article Source: Bleacher Report - New York Yankees
The Wild Card New York Yankees will start the postseason in Minnesota against the AL Central Champion Twins.
Both teams will be critique over the next three days, as the sports media and baseball fans will express their opinions while trying to predict the outcome.
Being that I get questioned constantly about the Yankees, I took the three most asked questions and am breaking up into the most popular in a three part series. I will dissect both teams and give my unrated, honest opinion. All to be finished before the first pitch of the Yankees-Twins ALDS is tossed Wednesday night.
Let's not waste anytime, as here is the question one answered:
How do the two teams statistically match-up?
Historically, the Yankees have dominated the Twins in both regular and postseason series. The Yankees have a 9-2 playoff record against the Twins; the most recent victory was this same series in 2009.
Looking at 2010 statistically speaking, the Yankees are ahead of the Twins in home-runs with 200; New York leads the Majors in RBIs with 819 much better than the Twins total of 748. For total runs the Twins have 780, again losing to the Yankees who posted 855, which leads the Majors again.
The Twins come in third place overall for batting average with a .274, the Yanks come in eighth with a .267 average. In total hits the Twins have 1517, while New York has 1477 hits.
For the season, the Yankees have won 95 games, with the Twins following right behind with 94 wins.
Looking at the divisions individually, the AL Central doesn't hold a candle to the AL East regarding competition. The Yankees play 18 games against the Red Sox, Rays, Blue Jays and most improved Baltimore Orioles each. Compare that to facing a struggling Tigers, the awful Indians and Royals. The Twins did get about a month and a half worth of competition from the White Sox, but Ozzie's White Sox were out of the picture weeks ago.
The Twins record vs. AL East teams is 15-20 in the regular season; while the Yankees vs. AL Central teams posted a 23-12. The difference in wins-losses when facing the other team's division is a significant indication that the Yankees should win the series without too much of a hiccup.
Up Next In BREAKING DOWN THE YANKEES-TWINS SERIES…..What are each team's pros and cons?
Read more New York Yankees news on BleacherReport.com