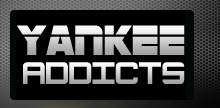 March 12, 2012 · Michael Moraitis · Jump to comments
Article Source: Bleacher Report - New York Yankees
Just when I thought we could put to rest the concerns over Michael Pineda's drop in velocity this spring training, New York Yankees GM Brian Cashman might have reignited the flame.
According to Jon Harper of the New York Daily News, Cashman is somewhat concerned over Pineda's velocity early on during the spring.
"It's a tough situation because he's a newbie with us," Cash said. "We don't have a history or experience with him, so we're going to grow to know each other. I know he feels good but I don't know what to make of it.''
When Cashman traded Jesus Montero to the Seattle Mariners in exchange for Pineda, the Bombers thought they were getting a fireballer in the young right-hander who historically averaged anywhere between 95-97 MPH on his fastball.
During spring training so far, he's been anywhere between 89-92 on a consistent basis.
Many have attributed it to a new approach that Pineda is taking early in games in order to get quicker, easier outs in the first couple of innings. Such a trend began in 2011 and was outlined by Dave Cameron of Fangraphs.com.
Others have brought up the fact that Pineda played winter ball last year and that's why his arm strength was further along at this time last year.
Harper explains the difference between Pineda's velocity from this year and last:
But I spoke to one AL scout a few days ago who got out his notes from last spring training, when he watched Pineda in Arizona, and said he had clocked him from 93-96 mph in early March outings.
Harper also points out that when he had Dan Uggla 3-2 in his last start and needed an out, Pineda went to his 83 MPH breaking ball instead of challenging him with a fastball, which was consistently around 92 during his 2.2 innings of work.
And unlike the notes from some scouts who watched Pineda and said his velocity normally would increase as the game went on, there was no change when he hit the third inning in his second start of the spring.
Clearly, the reasons for the drop in velocity that I mentioned above are not as cut and dry to the Yanks' general manager. Either that or he is not as informed as the rest of us.
It looks like the velocity watch might be back on the radar again. No pun intended.
Read more New York Yankees news on BleacherReport.com