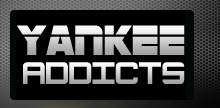 February 18, 2012 · Michael Moraitis · Jump to comments
Article Source: Bleacher Report - New York Yankees
Michael Pineda might have enough pressure on his hands in his first season with the New York Yankees already, but now the young right-hander is coming to spring training out of shape.
It's being reported that he will need to lose 10 pounds during spring training, which I find curious considering he's listed at 260. While it's likely Pineda gained weight during 2011 and pitched at 270, he could potentially be coming into camp 20 pounds overweight.
So why is this a problem?
Pineda happens to be a guy the Yankees will depend on in their starting rotation this season and could possibly be the No. 3 starter behind CC Sabathia and Ivan Nova. The fact that Pineda might be undisciplined and not ready for the season is an alarming fact considering the expectations and who he was traded for.
And that's not just me talking. Yankees general manager Brian Cashman had quite the expectations of his newest pitching acquisition himself.
To be fair, Pineda isn't the first guy to come into camp out of shape and he won't be the last. Pitchers of all shapes and sizes have had success in the MLB, so that doesn't guarantee that it will impact his season.
But if you're one of his coaches, especially manager Joe Girardi himself, a good start to the season for a young pitcher is coming to spring training in shape and ready for what will be the biggest season of their career.
Pineda will find pitching in the Bronx will be like nothing he's ever experienced before. A new level of pressure and expectations will be on his shoulders. This type of bad start to the season is not a good sign and isn't the type of dedication that will get the job done with the Yankees.
Only time will tell, but until the season starts, it's off to the gym for Pineda.
Read more New York Yankees news on BleacherReport.com