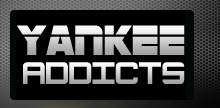 December 3, 2011 · Ely Sussman · Jump to comments
Article Source: Bleacher Report - New York Yankees
The New York Yankees are in World Series contention every season, but the organization is constantly dealing with unusual, downright freaky injuries to its key contributors.
Just in the past decade, position players and pitchers alike have been lost for extended periods of time due to unexpected ailments.
Luckily, the Yankees are always financially capable of filling voids as quickly as they open.
However, even if you have no mercy for the team, perhaps you can show some compassion for these individuals.