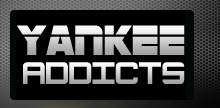 March 9, 2012 · Michael Moraitis · Jump to comments
Article Source: Bleacher Report - New York Yankees
Let me backtrack for a second and tell you I must admit guilt when I said Joba Chamberlain has no role on the 2012 version of the New York Yankees. I also said that nobody should be that excited for his return.
For that, I might have been wrong.
Chamberlain is recovering from Tommy John surgery at the moment and although he is making progress during spring training, the Yanks' young right-hander is still not slated to return until June at the earliest.
Certainly Joba will be back before the MLB trade deadline on July 31st, provided his recovery goes as planned.
All that being said, if Chamberlain can return to form and be effective out of the Bombers' bullpen as he was in past years, New York would have an incredible trade asset on their hands.
And no, not in Joba.
I'm talking about the highest-paid seventh-inning pitcher in Major League Baseball history: Rafael Soriano.
Sori is only making $11 million this season and is set to rake in $14 million for 2013. To put that in perspective, the guy who out-pitched Soriano last season and took his job, David Robertson, is making roughly a tenth of that.
General manager Brian Cashman has made his fair share of mistakes during his tenure with the Yankees, but Hal Steinbrenner's power grab to bring in Sori makes signing Jaret Wright look like a brilliant undertaking.
All that being said, Hal can show he's a smarter man than that by finding a way to deal the extra closer he has sitting in the 'pen. Don't forget, Soriano saved 45 games for the Tampa Bay Rays in 2010 and is certainly capable of being a good closer for a team in need and making a playoff run.
That can be something that brings back value for New York and it would be a welcome relief for a team hell-bent on dumping payroll over the next couple of seasons.
In the end, Soriano could end up being more valuable to the Yanks in the form of a lower payroll and either promising young talent or a player ready-made to help a big-league club.
Of course, that all depends on Chamberlain.
The Yankees' former setup man can ultimately regain that role and that starts by coming back healthy and showing he's the caliber of reliever he was only a few seasons ago.
Read more New York Yankees news on BleacherReport.com