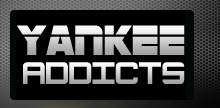 December 16, 2011 · Rick Weiner · Jump to comments
Article Source: Bleacher Report - New York Yankees
Recently I wrote an article about the New York Yankees and what it might take for them to acquire 26-year-old left-handed starter John Danks from the Chicago White Sox.
The deal included three Yankees prospects—Brandon Laird, Zoilo Almonte and Dellin Betances.
Notice Jesus Montero and Manny Banuelos are not included.
Including Betances was a deal-breaker for some—there was simply no way they would trade a "top prospect," even in exchange for established major league talent.
While I am not a proponent of reverting back to the heyday of George Steinbrenner that saw him trade off prospects at a pace that resembled Usain Bolt running the 100-yard dash, sometimes it is better to trade a prospect while his perceived value is high rather than to wait until he becomes exposed in the major leagues.
Lets take a look back at the Yankees' top-10 prospects every year since 2001 and see who lived up to the hype of being labeled a "top prospect."
All Top 10 lists are courtesy of Baseball America—you may need a premium subscription to their service to view the detailed lists on their site.