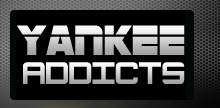 April 26, 2010 · Tom Au · Jump to comments
Article Source: Bleacher Report - New York Yankees
Vazquez has now pitched 20 innings, just under half of Wang's 42 last year. Otherwise, their statistics are eerily similar. Both of them have ERAs in the 9s. Vazquez's FIP, or sabermetric ERA, is 6.32, actually higher than Wang's 5.38 was. (FIP is a formulated "ERA" that uses home runs, strikeouts, and base on balls as inputs.)
That's mainly because Vazquez has already given up five home runs, or one every four innings. Wang gave up only seven during his brief 2009 tenure, or one in six innings. It's true that Vazquez' strikeout, or K/9 rate of 8.10 is at the high end of his career average, but so was Wang's at 6.21. Maybe they were both throwing too hard.
The difference between a pitcher's FIP and ERA is due to batting average of balls in play (BABIP). Over time, this figure is expected to converge to about .300 for most pitchers. A BABIP much higher than this can be due to one of two reasons: 1) statistical fluctuation due to small sample size, or 2) soft tossing, if maintained over time, a rare ailment in a professional pitcher, unless injured or otherwise handicapped, perhaps due to age.
In the case of Wang, it was easy to identify a reason for his weak pitching; the fact that he had never fully recovered from injuries sustained in 2008.
At age 31, Vazquez is older than Wang (29 in 2009). If he were 41, or even 36, thoughts of "old age" (for a ball player) might come into the picture. But Vasquez is more like "middle-aged" compared to his peers.
But there is another factor that comes into play. This will be the 13th year Vazquez has been pitching. The "life expectancy" of a major league baseball player (in that role) is something like 11 years. Meaning that Vazquez is now living on borrowed time. "Length of service" rather than chronological age, may be at work here.
Another example of a sudden collapse was that of Matt Morris, acquired by the Pittsburgh Pirates in 2007 for outfielder Rajai Davis. Put aside the fact that Davis performed better, and Morris worse, than the Pirates expected, meaning that they lost on both ends of the trade.
Morris had a fine record coming into Pittsburgh, pitched a mediocre second half of 2007, and then exhibited the Vazquez-Wang pattern early in 2008. He was 33 at the time, in his 12th and last year in baseball.
Don't talk about "old age" to late-30s wonders like Derek Jeter, Jorge Posada, and Mariano Riviera,yet. But they are the exceptions, the baseball equivalents of ninety-somethings.
But maybe the next twenty innings or so will tell a story for Vazquez, one way or the other. And maybe the Yankees were right to bench Wang after 42 innings (the Pirates did so with Morris after only 22). If so, Vazquez will need to "put up" soon. Or else he'll be "shut down."
On the other hand, maybe even forty-odd innings is too short a time period to judge a pitcher. Perhaps the Yankees will reserve judgment on Vazquez even after that span. And perhaps they should even have given Wang a longer "leash."
Read more New York Yankees news on BleacherReport.com