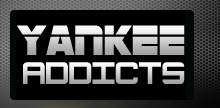 February 8, 2012 · John Nizinski · Jump to comments
Article Source: Bleacher Report - New York Yankees
The New York Yankees signed Russell Branyan to a minor league deal today with an invitation to spring training. The veteran left-handed hitter was primarily a pinch-hitter for the Los Angeles Angels of Anaheim last season.
Yankees GM Brian Cashman could be trying to get everything out of another veteran player in 2012, similar to 2011.
Last offseason, Cashman added depth to the Yankees rotation with Bartolo Colon and Freddy Garcia, two veteran starters who had low expectations.
Colon was one of the best pitchers in baseball at one time, and he won the 2005 American League Cy Young Award, going 21-8 with a 3.48 ERA that season.
However, he wasn't the same after 2005, and over the next four seasons he made only 48 total starts and compiled a record of 14-21 with a 5.18 ERA.
Then, he missed the entire 2010 season because of ongoing right shoulder pain and damage to his rotator cuff, ligaments and tendons. He underwent surgery in March 2010 in which he received a transplant of stem cells.
Cashman took a shot on Colon and he wound up grabbing a rotation spot that eventually led to a spot in the starting rotation. Colon finished the 2011 season 8-10 with a 4.00 ERA.
His impressive first four months of the season, however, played a significant role in the Yankees' success. He acquired all eight of his wins in those first four months and had a 2.25 ERA in the month of June.
Freddy Garcia had been a solid power pitcher at the beginning of his career. However, he lost some velocity and began to struggle as he got older.
From 2007 to 2009, Garcia made only 23 starts and came away with only five wins.
With the Chicago White Sox in 2010, he had a decent 12-6 record, but his ERA was a lofty 4.64. This led many to think his career was almost over, and teams lost interest.
The Yankees took a shot on him in 2011, and he earned a spot in the starting rotation to start the season.
Garcia resurrected his career because he was able to adapt. He became a junk pitcher, and mixed speeds and pitches to fool hitters. He ended the season with a 3.62 ERA and had 12 wins.
The Yankees also took a shot on the oft-injured Eric Chavez in 2011 to help give them depth at the corner infield positions. Once upon a time, Chavez was a 30-home-run and 100-RBI Gold Glove third baseman.
Then, he was unable to stay healthy and on the field. From 2007 to 2010, he played in only 154 games.
In the 2011 offseason, the Yankees signed Chavez—in basically the same way they signed Branyan—to a minor league contract with a spring training invite.
Although Chavez got hurt and missed time last season, he was still productive and was worth the risk. He had a .263 batting average and drove in 26 runs.
The Yankees have been interested in bringing in a left-handed designated hitter. Branyan may not be the answer or the best option, but Cashman could be trying to strike gold with him.
Branyan has bounced around many different teams and is a pure power hitter. While his career batting average is a rather unimpressive .232, the intriguing thing about Branyan is that his career 162-game average for home runs is 30.
Most Yankees fans will remember the two bombs that Branyan hit at the new Yankee Stadium in 2009 and 2010.
With Seattle in 2009, he hit a monster home run off the glass of the Mohegan Sun Sports Bar in dead center field above Monument Park, and he remains the only person to achieve that feat.
Then, in 2010, he became the first person to hit a homer into the fourth deck in right field at Yankee Stadium.
Although Branyan saw limited playing time in 2011, he was rather productive in 2009 and 2010. In 2009, he hit 25 home runs and drove in 57 runs. In 2010, Branyan hit .251, with 31 home runs and 76 RBI.
In signing Branyan, Cashman could be looking to ride the luck of signing washed-up veterans and having them produce.
If Branyan can prove in spring training that he is still a powerful slugger, he could find himself getting significant playing time as New York's designated hitter.
Read more New York Yankees news on BleacherReport.com