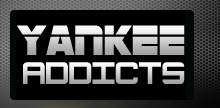 News published by
May 4, 2013
The idea of Alex Rodriguez not being expected to have a big impact on a team for a season is hard to fathom. But after his performance in the 2012 ...
February 25, 2013
One game into spring training and the New York Yankees are already off on the wrong foot.According to Wallace Matthews of ESPN, Granderson was hit by a J.A. Happ pitch in ...
November 16, 2012
It is not even a month into the MLB offseason, and we have already seen moves being made.The Detroit Tigers signed veteran outfielder Torii Hunter to a two-year, $26 million ...
October 4, 2012
The New York Yankees are once again AL East Division Champions and the top team in the American League.It has been a long 162 games that saw a double-digit lead ...
May 1, 2012
The month of April is officially over and the Yankees have had an interesting start to their season.They are among the top teams in baseball as expected, but most players ...
April 24, 2012
Here we are again for another week of New York Yankees predictions. The Yankees were able to split their four game series with the Minnesota Twins. Then they won the two games ...
April 17, 2012
The Yankees are the most successful team in MLB history. New York is considered by many to be the media capital of America and the Yankees are right in the ...
April 16, 2012
We are about to start the second full week of the season, and most predictions have been spot on, but some have been way off. The New York Yankees bounced back ...
April 5, 2012
The New York Yankees' drawn-out spring training is over, and their regular season is getting underway.Often, spring training will give some indication of how each player will do that season. ...
April 3, 2012
I am starting a weekly article in which I provide some predictions for the New York Yankees' week ahead. The predictions will include the games the Yankees will win and ...