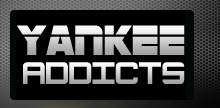 December 17, 2011 · Phillip Brown · Jump to comments
Article Source: Bleacher Report - New York Yankees
The New York Yankees are reportedly seeking to lower their payroll to $189 million. To most teams that seems very easy but the Yankees have a bunch of aging stars with huge contracts that will make this seemingly-simple task very difficult.
Now, the Yankees will not have to permanently stay at $189 million to save money, as the luxury tax in the new CBA punishes repeat offenders, so the Yankees payroll will waver above and below $189 million. In order to save a large amount of money the Yankees will only have to drop to the $189 million payroll threshold once of out every three years.
I will be acting as the Yankees GM and my goal will be to field a competitive lineup while trying to eventually lower the payroll to $189 million. For this article I will ignore arbitration, bench players and players getting league minimum because those figures tend to stay pretty much stable year-to-year and they are tough to predict.
Lets see how this $189 million payroll is possible.