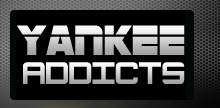 June 17, 2009 · Perry Arnold · Jump to comments
Article Source: Bleacher Report - New York Yankees
The New York Yankees entered this season knowing that they needed far greater performance from the catching position if they were to end this season with a better record than 2008.
Last year saw season ending shoulder injuries to long time star Jorge Posada. This resulted in off season shoulder surgery to the labrum.
Posada worked hard to get himself ready to play by the end of Spring Training and did so.
But then he went down with a left hamstring strain. Just a few days later, backup catcher, Jose Molina went down with a quad strain.
The Yankees had no choice but to call a catcher from the minor leagues and the only other catcher on their forty man roster was Double-A Francisco Cervelli.
Cervelli was soon joined by Kevin Cash, an off season acquisition from the Red Sox. Cash had more experience, but Cervelli soon proved that he had the ability and the energy to add a lot to the Yankees team.
Soon after Cervelli joined the squad the Yankees began their most productive run of the season. This also coincided with Alex Rodriguez coming off the disabled list following hip surgery.
When Posada was ready to come back from the DL, Cash was sent back to the minors and Cervelli remained with the big team.
This has created a dilemma that the Yankee management will not acknowledge.
Without question, Cervelli is the better defensive catcher, is much better than Posada at throwing out runners and has earned the respect of the pitching staff for his ability to call pitches.
By contrast, Posada seems unable to get on the same page with some of his pitchers.
From the very beginning of the season, it seems AJ Burnett is much better when pitching to someone other than Posada.
In Sunday's game against the Mets, with Cervelli behind the plate, Burnett turned in one of his better overall performances of the past six weeks.
CC Sabathia seems to pitch better to Cervelli, or Molina before his injury, than with Posada.
And the last outing by Joba Chamberlain was almost embarrassing, with the 23-year-old fireballer continually shaking Posada off and wanting to throw his own pitches and the veteran catcher stomping to the mound to confront Joba about pitch selection.
In last night's game Yankee commentators, Michael Kay and John Flaherty, talked at some length about the disrespect that has been shown to Posada. Kay in particular took exception to Joba Chamberlain making such an issue of Posada's pitch selection.
There is no doubt the Yankees need Posada's bat in the lineup. At this stage no one in their right mind would expect Cervelli to provide the same offensive punch as Posada.
But Cervelli has surprised with the bat and after going three for three on Sunday, he now boasts a .298 average. He also has shown a capacity to come through in the clutch.
Posada, on the other hand, has slumped lately and finished last night's game with the Nationals hitting .289.
The bigger picture has to include DH Hideki Matsui who has been extremely inconsistent this year and from time to time still seems hobbled by knee problems that required two surgeries in the last two years.
Matsui was 0-for-3 with a walk in last night's game and is now hitting only .253.
Girardi has sat Matsui against left-handed pitchers more in recent weeks and this may be a trend that will need to be expanded.
If Matsui is used less and Posada is slotted in as DH, Cervelli can certainly improve the defense.
Cervelli may also improve the confidence of the pitching staff which seems to suffer with Posada and the Yankees may profit in several ways.
Cervelli will not hit for power. But he can be more than adequate hitting in the nine hole. And the benefits he brings behind the plate can not be ignored forever.