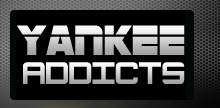 January 24, 2012 · Harold Friend · Jump to comments
Article Source: Bleacher Report - New York Yankees
The 1995 New York Yankees had lost the first five straight games of a western swing. It was only May 28, but Mr. Steinbrenner needed a victory.
Manager Buck Showalter started 25-year-old Mariano Rivera against the Oakland A's. It was Rivera's second major league appearance.
The California Angels had blasted him for five runs in his first major league start five days earlier.
The Yankees staked Rivera to a lead in the first inning when they scored a pair of runs off Mike Harkey, but Rivera had problems in the Oakland first.
Andy Tomberlin led off with a walk and Brent Gates followed with a screaming line drive to center field that Bernie Williams snared.
Angel Berroa flied out to left fielder Luis Polonia, but Mark McGwire singled and Ruben Sierra walked to load the bases. Always cool under pressure, Rivera struck out Terry Steinbach, who had hit two grand slams in his last 12 games, to end the inning.
Rivera sailed along until the bottom of the sixth inning, having allowed no runs and seven hits. It hadn't been easy.
After Steinbach flied out to Paul O'Neill in right field, Mike Aldrete and Scott Brosius, both of whom would play on Yankees world championship teams, hit back-to-back doubles for a run.
That was it for Rivera. Bob Wickman retired the side without Brosius scoring. He worked a scoreless seventh and a scoreless eighth before John Wetteland finished the game by striking out the side.
Rivera had his first win. He reflected after the game.
"I will remember this the rest of my life," he said. "Just the conditions of today–having lost five in a row. I needed this, we needed this."
It's been 17 seasons but Rivera is still the same person. He is a Yankee in the tradition of Lou Gehrig, Joe DiMaggio, Mickey Mantle, Derek Jeter, Bernie Williams and Jorge Posada.
No one gave Rivera a game ball inscribed "First major league victory." The response was typical Mariano Rivera.
"A game ball? Don't have one," he said. "But that's all right. You have it in your heart."
Read more New York Yankees news on BleacherReport.com