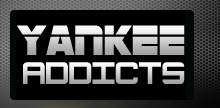 February 3, 2012 · Harold Friend · Jump to comments
Article Source: Bleacher Report - New York Yankees
Deadspin.com reported yesterday that New York Yankees executive Brian Cashman had a relationship with a woman named Louise Meanwell (also knows as Louise Neathway).
According to the website, Meanwell had a voicemail, a recorded phone conversation, a deposit slip and a recommendation letter on Yankees letterhead from Cashman.
According to the New York Post, Meanwell said that Cashman called her and visited about twice a week and gave her Yankees tickets. She also showed pajama pants and a toothbrush she claimed Cashman left at her apartment.
A few days ago, Meanwell allegedly called Cashman's wife, with whom he no longer lives, to inform her that she was the woman with whom Cashman was having an affair.
"I'm finished with him destroying my life and his family."
What is of interest is that Cashman allegedly gave her $6,200 to help pay for the lease on her apartment. The $6,200 was an attempt by Cashman to extricate himself from the situation. Deadspin has an image of a deposit slip Meanwell says documents a payment from Cashman.
The reports state that Meanwell claims Cashman has given her about $20,000 during the course of their relationship.
It appears that Meanwell and Cashman agree that he provided the money. Cashman claims it was an extortion scheme, however, while Meanwell ways it was money for rent.
According to the reports, Meanwell was arrested outside of her apartment on Leonard Street in TriBeCa on Wednesday. She has been charged with grand larceny, attempted grand larceny, stalking and aggravated harassment.
The Post quoted Meanwell's lawyer, Stephen McCarthy, as saying the case is about "a married man having an inappropriate relationship that ended badly."
He was confident that all charges against his client will be dropped. "We have dozens of witnesses who are prepared to place the DA's case in complete jeopardy," he said.
Only a fool would attempt to draw any conclusions. That is for a jury to decide unless a deal is struck.
Regardless of the truth, regardless of how the situation plays out and regardless of what one wants to believe, the entire affair (read that word any way you want) is a terrible distraction for the greatest organization in the history of sports.
Read more New York Yankees news on BleacherReport.com