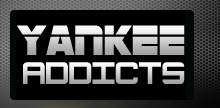 March 31, 2010 · Dan Hanzus · Jump to comments
Article Source: Bleacher Report - New York Yankees
With Opening Day on the horizon, River & Sunset once again offers Yankees fans a quick and easy way to get to know their team. We can verify that 91 percent of the information below is both accurate and relevant to this year's defending World Series champions. The rest is a mixture of hearsay and outright falsehoods.
STARTING ROTATION
Sabathia, CC: Beefy left-hander who lived up to massive expectations in first season in pinstripes. Ability to fill role as Yankees ace and potentially recruit LeBron to Knicks makes him the most important athlete in New York sports history. Remains the most amazing "bear" since Steve Balboni in gay Yankee fan community.
Burnett, A.J.: Managed to make it through 33 regular-season starts and five playoff appearances in 2009 without revealing whether or not he was actually any good. Actively worries that popular whipped cream-pie bit will soon be as stale as the YMCA groundskeepers.
Pettitte, Andy: Seemingly wiped away any lingering HGH awkwardness with another strong regular season and dynamic playoff run. Channeling Hollywood hunk George Clooney's debonair salt-and-pepper hairstyle. Teammate most likely to hate Nick Swisher's choice of clubhouse iPod music. Teammate most likely to hate Nick Swisher.
Vazquez, Javier: Yankees required right-hander to watch climatic scene from Good Will Hunting before reporting to spring training. "It's not your fault. Look at me son…it's not your fault. It's not your fault. It's not your fault. The 2004 ALCS was not your fault."
Hughes, Phil: Rightful winner of fifth-starter competition, quirky 23-year-old will be asked to make the leap in 2010. Secretly self-conscious that "Phil Rules" is not as catchy as "Joba Rules."
BULLPEN
Mitre, Sergio: Slated long reliever's chief role will be to make sure Mariano Rivera gets whatever he wants, whenever he wants, in Yankees' bullpen. This includes (but is not limited to): Big League Chew, dill pickle sunflower seeds, McDonald's premium roast, bibles, eternal youth serum, and a Luis Gonzalez voodoo doll.
Park, Chan Ho: Free agent acquisition effectively replaces Chien-Ming Wang as veteran Asian right-hander with durability issues.
Aceves, Alfredo: Back in bullpen after participating in fixed fifth-starter competition. Had as much chance of winning as Harlan Chamberlain does at outpacing a Kenyan at the Boston Marathon.
Logan, Boone: Trade acquisition will join Damaso Marte to form southpaw contingent of Yankees' bullpen. May or may not have same name as a central historic figure involved in the Battle of the Alamo.
Marte, Damaso: Improbably gained Joe Girardi's trust during 2009 postseason, and rewarded manager's faith with strong performance. Team's decision to keep second lefty in bullpen possibly signals that mistrust still lingers. Definitely hates Boone Logan, but is aware of his (potential) ties to American history.
Robertson, Dave: Hard-throwing right-hander may have opportunity to grab eighth-inning setup role if Joba Chamberlain falters. Otherwise, so nondescript that I can't even think of a joke here.
Chamberlain, Joba: Status went from "This guy has NO ceiling!" to "Wait, was this architect a midget?" faster than any phenom in recent Yankees history. Seemed uninterested in winning starting rotation spot this spring. Potentially headed toward flameout of epic proportions.
Rivera, Mariano: Dominant reliever has been goat twice (2001 World Series, 2004 ALCS). Has been G.O.A.T. (Greatest of All Time) in all other instances.
CATCHER
Posada, Jorge: Veteran catcher is just two more 20-homer, 80-RBI seasons away from near-certain Hall of Fame status. Glaring defensive deficiencies during 2009 postseason led to multiple f-bomb tirades at River & Sunset headquarters. Foxy wife Laura fought off valiant charge from Minka Kelly to retain Hottest Yankee Wife/Girlfriend title.
Cervelli, Francisco: Handsome Italian who will be asked to fill cement shoes of previous backup catcher Jose Molina. Became close friend of Alex Rodriguez during 2009 season, likely leading to at least one scenario where he was forced to make awkward conversation with Kate Hudson while A-Rod used the bathroom.
INFIELD
Teixeira, Mark: Perennial MVP candidate who impressed fans in 2009 as best two-way Yankees first baseman since Don Mattingly. No discernible sense of humor or personality, has brain activity stored entirely on complex hard drive.
Cano, Robinson: Talented second baseman whose move to fifth position in batting order represents organization's wish that he becomes consistent 100-RBI producer. Often seen crying at locker this spring, holding faded glow stick in one hand and photograph of best friend/ex-teammate Melky Cabrera in the other.
Jeter, Derek: Iconic future Hall of Famer who has entered "I'm Derek Jeter!" phase of career. Can subsist entirely on chili dogs and bat .120 this season and still receive loudest ovation of any Yankee. First celebrity figure since Phil Collins to make receding hairline cool.
Rodriguez, Alex: Polarizing superstar who rode the power of Kate Hudson's private parts to finally achieve postseason glory last fall. Set personal record during February press conference with 74 lip puffs in 15 minutes. (Possibly) true story: Flew to Canada last year to be injected with livestock blood.
Pena, Ramiro: Beanpole reserve infielder fighting for playing time behind Alex Rodriguez, Derek Jeter, Robinson Cano, and Mark Teixeira. On a positive note, Pena will finally have time to work on that buddy cop screenplay he's always blathering on about.
DESIGNATED HITTER
Johnson, Nick: New designated hitter's innate ability to reach base compromised only by a body that is composed entirely of papier-mâché. May score 115 runs this season or twist his ankle and spontaneously combust on Sunday. Vegas lists even odds.
OUTFIELD
Gardner, Brett: Breaks camp for second straight season as starting outfielder for parent club; hopes to hold onto job longer than three weeks this time around. Misshapen head not conducive to buzz-cut look.
Granderson, Curtis: Affable new center fielder is runaway favorite for player most likely to be booed unmercifully for sluggish April performance. Ability to recite alphabet, correctly name the President separates him from former Yankees left fielder he essentially replaced.
Swisher, Nick: Loquacious right fielder became media darling in 2009 on merits of 29-homer season, stupid haircut. Absurd Twitter feed includes curious updates like, "Talk to me! How's your day going? What's up?" that makes you wonder if he's being held hostage and needs help.
Winn, Randy: Free agent acquisition expected to push Brett Gardner for playing time in left field. Player most likely to be summarily eliminated following pricey trade deadline acquisition. Bonus: Probably does a pretty good Obama.
MANAGER
Girardi, Joe: World Series title in second season as manager has made fans forget all about predecessor. Recently stumbled across 1997 made-for-TV movie Joe Torre: Curveballs Along The Way (I implore you to click) and secretly fumed that Showtime didn't approach him for a similar project. "They got Paul Sorvino to play Torre??!!! You're telling me Ray Liotta's not available to play me!!!! I CALL BULLSH*@!"'
Dan Hanzus writes the Yankees blog River & Sunset and can be reached via e-mail at dhanzus@gmail.com. Follow Dan on Twitter at danhanzus .
Read more New York Yankees news on BleacherReport.com