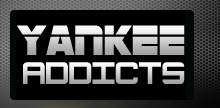 April 11, 2010 · Bronx Baseball Daily · Jump to comments
Article Source: Bleacher Report - New York Yankees
The Yankees have gotten off to a good start so far this season, as they opened up against two tough opponents, the Red Sox and Rays, but still managed to win two of three games from each team to open the season with a 4-2 record.
You try to win every series," manager Joe Girardi said. "That's our goal going in. I don't think you can be satisfied being even. Some people might say you hung in on a tough road trip, but our goal was to win both series."
How They've Done It
* Their lineup is deep. The No. 2 and No. 3 hitters in the lineup aren't even hitting .200, but the No. 5-6-7-8 hitters are probably the best in any lineup in all of baseball.
* Robinson Cano: 2 HR, 6 RBI, .360 AVG. Jorge Posada: 2 HR, 4 RBI, .353 AVG. Curtis Granderson: 2 HR, 4 RBI, .348 AVG. Nick Swisher: 1 HR, 3 RBI, .333 AVG.
* Oh yeah, Brett Gardner hasn't been too shabby either: 4 G, 4 R, 3 SB, .294 AVG.
* The rotation hasn't been good, but in six games we've seen promise from their top three. CC Sabathia and A.J. Burnett both pitched much better in their second starts, CC damn near pitched a no-hitter, and Andy Pettitte looked vintage in his lone start.
* Mariano Rivera never ages. In his first three appearances: 3 IP, 2 SV, 2 K, 0.00 ERA, 1.00 WHIP.
Why You Should Expect Them to Keep Winning
* They've got a tough series coming up against the Angels, but beyond that this is a Yankees team built to win. They are filled with players that just get hotter as the season goes on, i.e. Mark Teixeira, Pettitte, and Sabathia. They're deep enough to win now, and they'll just keep getting stronger.
* Early signs that their top three starters are going well eases concerns that Javier Vazquez and maybe even Phil Hughes aren't good enough. If their top three are winning, they'll only need minimal contributions from the other two.
* Teixeira will start hitting.
* This lineup is already showing that it's going to wear down pitchers. Possibly the three weakest hitters in the lineup—Gardner, Nick Johnson, and Swisher—are among the league leaders in pitches per plate appearance—which means that when pitchers should be getting a break, they're being forced to work their hardest.
* The bullpen looks good. Alfredo Aceves and Chan Ho Park have already contributed with long performances eating up valuable innings. Joba Chamberlain has struggled but should find consistency. If not, David Robertson looks about ready to take over the eighth-inning role by himself. Damaso Marte looks healthy so far.
What Could Still Go Wrong
* It is realistically unlikely, but Vazquez could just suck in New York.
* Chamberlain could have a bad season in the bullpen; at that point the Yankees could take some serious criticism for how they've handled him and missed trading him when he had real value.
*Posada's defense could regress to the point where the Yankees need to use him as their primary DH this year, eating into Johnson's at-bats.
* Members of the bullpen who have seem to have put minor injuries behind them—Marte's shoulder, Robertson's elbow, Aceves' back—could have relapses.
* Teixeira could take longer to rebound from his typical early season woes. Because he's in just the second year of a very long contract, this could even lead to a lot of media drama.
* Injuries.
Thoughts
* Looking at those points I made above, the good points are a lot more plentiful and more likely than the things that could go wrong. I've said this all along, but I'm going to keep saying it: As long as this team doesn't deal with major injuries, they should continue to win all the way to October.
Related Stories
Read more New York Yankees news on BleacherReport.com