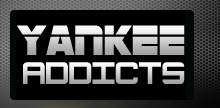 April 15, 2010 · Bronx Baseball Daily · Jump to comments
Article Source: Bleacher Report - New York Yankees
April 15, 1947: Jackie Robinson becomes the first baseball player of color, breaking the color barrier.
Sixty-three years later, with his number retired around baseball, the legend lives on. On a night where every player and umpire in the MLB wore the number 42, the Yankees (who have four African-American players) defeated the Angels 6-2. The opening ceremony featured Robinson's widow Rachel, his daughter Sharon, and his grandson Jesse Simms throwing out the first pitch.
On an important note on a smaller scale, Phil Hughes made his season debut after winning the ever-so-dramatic spring training competition.
Hughes struck out two batters in the first, and in the second, received a big hello from Hideki Matsui, as smashed his first hit against his old team into the Yankee bullpen.
In the bottom of the second, Robinson Cano (named after Jackie Robinson) drove one out to right.
Derek Jeter led off the third with a Jeterian home run to right that seemed to take the help of the wind.
In the bottom of the fourth, Marcus Thames (who surprisingly impressed me at the plate this game) led off with a bloop single. Curtis Granderson followed with a rip inside first that he hustled into a triple. Jeter later drove him in with a double. Score after four: Yankees 4, Angels 1.
After an Alex Rodriguez double to start the fifth, Cano followed him with his second home run of the night, barely clearing the right field wall and driving Scott Kazmir out of the game. Phil Hughes kept cruising in his first start of the season. His fastball looked real sharp and had a lot of movement up in the zone, as well as a hard changeup and nice slider all night.
The Angels second run came on a Kendry Morales groundout in the sixth.
Both bullpens shut down the opposition for the remainder of the game. After the Angels put runners on first and second with two outs in the ninth, the lone, true No.42 in the league, Mariano Rivera , came on for the one-out save.
Final Score: Yankees 6, Angels 2.
Game MVP: Robinson Cano
Notes:
Mark Teixiera went 0-2, with 2 strikeouts and 3 walks, putting him at 3-33 (.091) for the season
Jeter: 2-5, HR 2 RBI
Cano: 2-4, 2 HR 3 RBI
Thames: 2-3, R
Matsui: 2-2 HR, 2 BB
Hughes: 5+ IP 3 H 2 ER 5 BB 6 K (108 pitches-career high)
Robertson: 1.2 IP 0 H 1 BB 3 K
Kazmir: 4+IP 8 H 6 ER 3 BB 2 K 3 HR
Around the AL East:
-Minnesota: 8, Boston: 0
-Toronto: 7, Chicago: 3
-Oakland: 4, Baltimore: 0 (in the fifth)
-Tampa Bay: off
Yankees Record: 6-3 (2-1 at home)
Related Stories
Read more New York Yankees news on BleacherReport.com