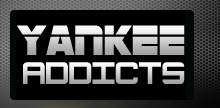 March 23, 2010 · Dan Hanzus · Jump to comments
Article Source: Bleacher Report - New York Yankees
When Joe Girardi opened camp last month, he made it clear that the fifth-starter job would be a wide-open competition.
And so it was that Phil Hughes, a 23-year-old once deemed too promising to be dealt for Johan Santana and Joba Chamberlain, a 24-year-old once touted as the next Josh Beckett, ended up in a dogfight with the very ordinary likes of Sergio Mitre, Chad Gaudin, and Alfredo Aceves.
Or at least that's how the Yankees presented it.
The reality of the situation is that the fix was in from the start. The Yankees needed Joba or Hughes to win the gig; if they both failed it would be an indictment of the entire operation. This made the Mitre-Gaudin-Ace troika paper contenders, as fake as the color of John Sterling's hair.
This was always about the Golden Boys, even if the Yankees would never admit it.
It's telling that Girardi felt this was the most prudent course of action. The Yankees manager was sending a message to the pair. Despite their pedigree and high esteem within the organization, nothing was going to be handed to them. They'd have to earn it.
They are being pushed.
Of the two contenders, it's Chamberlain who faces the most pressure.
It's hard to believe, but it was way back in 2007 that Chamberlain burst onto the scene, imposing his will as Mariano Rivera's set-up man.
What's followed since that season has been a series of peaks and valleys, a combination of success and failure that has made Chamberlain a lightning rod for debate among fans and the media.
Should he be a starter or reliever? Why does he keep making excuses? Does he have off-the-field issues? Why was he dressed as the Hamburglar during his DUI arrest?
It's not brought up enough, but Chamberlain hasn't been the same pitcher since Aug. 4, 2008, the day he walked off the mound in Texas with pain in his shoulder. He was diagnosed with rotator cuff tendinitis, ending what had been a very promising first season as a starter. (Chamberlain did return out of the bullpen in September.)
Whether it's the fear of cutting loose, or actual physical limitations, his fastball has never consistently returned since that DL stint.
His struggles during the '09 season reached a point where there were whispers he would be left off the postseason roster. Wisely, the Yankees kept him involved, and he responded by getting some key outs during the World Series run.
This will be the most important season of Chamberlain's career. He'll be 25 by the end of the year; he's no kid anymore, despite what that baby face tells you. In all likelihood, the next six months will tell us whether Chamberlain will be a big-time pitcher in this league or if he'll earn JAG (Just Another Guy) status.
Neither Chamberlain nor Hughes have exactly seized the opportunity this spring. Chamberlain was bombed in his first two appearances before righting the ship in his last two. Hughes has been similarly spotty, but appears to be the front-runner for the job.
On Monday against the Phillies, Hughes allowed three home runs, including a walk-off blast by journeyman Wilson Valdez. Still, Girardi spoke like his right-hander had pitched a game that we'd see on ESPN Classic one day.
"I thought it was the best that he's thrown," Girardi said. "It was the best his changeup's been. He saw their big boys and threw the ball well. It's unfortunate it ended the way it did, but I thought it was the best stuff he's had."
Yes, the fix has been in from the start. If your name was Chad, Sergio, or Alfredo, you had about as much chance to win as a Harlem Globetrotters opponent.
Hughes will likely get the first shot at sticking in the rotation. Knowing the grind of a baseball season, Chamberlain will eventually receive his opportunity as well.
It's put up or shut up time for the Golden Boys.
Dan Hanzus writes the Yankees blog River & Sunset and can be reached via e-mail at dhanzus@gmail.com. Follow Dan on Twitter at danhanzus .
Read more New York Yankees news on BleacherReport.com