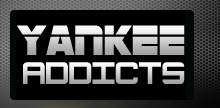 April 23, 2009 · Perry Arnold · Jump to comments
Article Source: Bleacher Report - New York Yankees
The New York Yankees finished the first homestand in "The Palace" last night in what was supposed to be an afternoon game.
The game went 14 innings and was just three minutes short of five hours long.
On average there was one pitcher used for each inning of the game. Each team utilized seven hurlers.
Those 14 pitchers gave up a total of 26 hits and 16 runs. But there were also 14 walks and 43 runners left on base.
This was a wild end to a bizarre opening homestand for the Yankees in their new stadium.
Six games were played in this homestand and a total of 26 home runs were struck, a new Major League record for home runs hit in the first home stand of a new park.
There were a total of 134 hits in the six games. There were 83 runs scored.
There were also 65 walks allowed and 217 runners left on base. You might want to read that again. In six games despite 83 runs being scored, there were 217 runners left on base!
In the Saturday game when Cleveland scored 22 runs, they left 24 runners on base. That is almost hard to believe.
There were also two umpire television reviews of home runs.
And of course, there was one rain out in the home stand. It boggles the mind to think what numbers might have been put up on Monday night if Mother Nature had not intervened.
Yesterday's game saw enough additional incredible happenings to make one wonder if the ghosts have come across the street to haunt this place, rather than bless it.
On an easy pop fly to short left field that either shortstop, Derek Jeter, or left fielder, Johnny Damon, could have caught in their sleep, Damon let the ball hit his glove and inexplicably drop to the ground, allowing former Yankee, Jason Giambi, to reach first base.
Later in the same inning, Giambi had managed to waddle his way to third base. As Giambi perched there, Jack Cust hit a weak ground ball back to starting pitcher, CC Sabathia.
Sabathia snared the grounder, slowly turned toward second where Jeter was prepared to begin a double play.
But CC's throw was a little to the third base side of second and Jeter had to reach back across his body. He managed to tag the bag for the force out, but realized he had no chance to get the out at first.
So Jeter pivoted and threw to home plate in an attempt to get the lumbering Giambi who was ever so slowly making his way homeward.
However, Jeter's throw reached no-one. It was a good enough throw, hitting the ground close to home plate, and bounding all the way to the backstop.
The problem was that catcher, Jorge Posada, was not there. Seeing Sabathia throwing the ball to second, Posada had started down the first base line to back up the throw at first.
Apparently he had forgotten that Giambi was on third. Even as slow as Giambi was, he had no trouble scoring on this play.
No error was assigned on the play. This may have been because the official scorer was asleep by then. Or it could have been that the exercise in futility wrenched the heart of the scorer and he felt sorry for his boys in pinstripes.
Jeter thumped his chest with his glove and mouthed something such as, "My bad." Jeter should have checked Giambi who had not gotten far off third when Derek threw home. Or he should have made certain Posada was where he should have been with a man on third.
Put the real fault on Posada. An apparent brain farct disabled him from remembering that his former teammate was on third base. After the game he admitted he should have stayed home.
The game continued into the ninth tied 7-7, and Yankee manager, Joe Girardi, called on closer Mariano Rivera to stop the A's in the top of the inning.
Rivera was his usually brilliant self, although he uncharacteristically gave up one hit in the inning. But he did his job in shutting the A's out.
But the Yankees failed to win in the bottom half of the inning and the top of the tenth saw Damaso Marte toeing the rubber for the Yankees.
Marte pitched to two hitters, striking out one and walking one. But with a cumulative ERA for the season of 18.90, Marte did not engender much confidence in Girardi.
Girardi instead turned to change up artist, Edwar Ramirez, who got four outs while giving up only one hit before giving way to Jose Veras with two outs in the 11th inning
Veras has been less than brilliant this season, and some fears had to creep into the hearts of all Yankee fans to see Veras with his herky-jerky delivery trying to keep the Bombers in the game.
Veras' windup is so violent and so erratic that the term "arm-slot" cannot possibly have any meaning.
But this time, Veras was very, very good. He pitched three-and-a-third innings to finish the game and gave up no hits.
The Yankees came to the plate in the bottom of the 14th inning, in a game that had begun at five minutes after one o'clock in the afternoon and was still being played as the clock crossed six in the evening.
With Nick Swisher on first base, Melky Cabrera came to the plate against Dan Geise.
Geise had been a very important part of the Yankee pitching staff in 2008, and was the final cut from the Spring Training roster when the Yankee brain trust chose not to keep a long reliever and went instead with rookie, Jonathon Albaladejo.
Geise threw a bad curve to Melky who took the pitch. Then Geise came with heat and Melky made contact and lifted the ball into the airstream flowing toward right.
It became the 26th home run of this six game series, but in fairness to Melky, this would have been a home run in any park in America, save possibly Yosemite.
The oft maligned Cabrera stood momentarily, admiring his work, before trotting around the sacks, tossing his helmet off, and joining his rejoicing teammates at home plate.
It was not completely clear whether the Yankees were celebrating Melky's home run, their hard earned victory, or just the fact that this crazy game that ended an insane home stand was finally over.
The Yankees have one day off before they venture to the friendly confines of Fenway Park, where the love of Boston fans will undoubtedly be shared with the gentlemen from the Bronx.
In preludes to the resumption of the fiercest rivalry in baseball, two thoughts come to mind.
First of all, could there possibly be anything uglier than Kevin You-Kill-Us in a green cap.
And secondly, David Ortiz (Big Papi), was quoted as warning Yankee hurler, Joba Chamberlain, not to throw at his teammates. It was unclear what Papi would do about it if Joba inadvertently had less than the best control Friday night in The Fens.
But it seems ironic that Papi would issue this caveat to the Yankees when, for a number of years now, it has been Yankee hitters who have been beaned repeatedly, while New York pitchers were restrained from retaliating.
I don't want to see anyone hurt. But I would be only too happy to see Joba "The Barber" Chamberlain shave some Red Sox players closely Friday night.