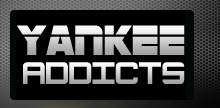 October 13, 2010 · Dan Hanzus · Jump to comments
Article Source: Bleacher Report - New York Yankees
I am a fine connoisseur of movies that fall under the banner of "so bad, they're good."
If it has stilted dialogue, gaping plot holes, poor special effects and gratuitous sex scenes, I am in.
Classics like the Thomas Ian Griffith thriller Crackerjack (1994), Shannon-Elizabeth-gets-violated-by-a-carrot horror flick Jack Frost (1997) and the Billy Ray Cyrus action epic Radical Jack (2002) are shockingly dreadful movies that I've watched multiple times, usually while inebriated, with great delight.
This weekend I reached the peak of the "so bad they're good" mountain with The Room, a 2003 indie melodrama written, directed, produced, executive-produced, financed and starring a strange-looking and even stranger-sounding man by the name of Tommy Wiseau.
I was a little late to the game on The Room. Seven years after flopping in very limited release, the film has become a fairly substantial cult hit with weekly Rocky Horror-type screenings here in L.A. and around the country.
Wiseau himself is known to frequent these screenings, apparently unaware that the joke is on him.
The movie makes no sense on several levels. The dialogue is loaded with non sequiturs and is heavily overdubbed. Entire plot elements and even characters are introduced and then completely forgotten. But part of the movie's charm is its unpredictability. Since it doesn't follow any rules previously thought to be understood, anything can happen. It's a complete free-for-all.
In other words, it's kind of like the MLB postseason so far.
We've had a no-hitter (Roy Halladay), a Bill Buckner reincarnate (Brooks Conrad), and a five-game series in which the home team lost every game (Rangers–Rays). We've even had a character introduced then completely forgotten as if they never existed (the Minnesota Twins).
People have asked me what I think about the Yankees' chances against the Rangers in the ALCS. I have no idea. I literally have no feel whatsoever. I didn't think either team was even going to make it out of the ALDS. We're in total crapshoot territory here.
The good news if you're a Yankees fan is that your team has some mojo working right now. Six days between games isn't the greatest way to keep your edge, but it does reinforce the feeling that the struggles of September were from another century.
You also have to feel good about avoiding Cliff Lee until Game 3 of the series. With all due respect to Halladay and Tim Lincecum, Lee is the most dangerous pitcher left in this postseason. He's a bulldog, completely locked in and pitching for a contract that will set his family up for generations. I just peed myself a little thinking about Lee on the mound in a Game 7 at Arlington.
Count me out of the camp that was thrilled when the Rangers knocked off the Rays. Make no mistake, I think Texas won because it was the better team. I was never convinced that the Rays were any good. It's almost amazing to think they won 96 games with some of the stiffs who littered their lineup.
But in sticking with the theme that the 2010 postseason has as much logic to it as the football catch scenes in The Room, I think the Rays would have been the tougher matchup in the ALCS.
The two teams played each other roughly 300 times this season, while basically the same Rays roster played in an ALCS (and World Series) just two years ago. Yankees aura and mystique would serve no purpose here.
That could be a different story for the Rangers, who never even won a postseason series until Tuesday night. And like a washed-up hair metal band, the franchise is still dealing with the hard realities of the '90s, when the Yankees won nine straight playoff series over three years.
Everything in my gut is telling me this is a seven-game series. Both teams have strengths and weaknesses that can, and probably will, be exposed. But that's the thing about this postseason—there's no way to tell what's going to happen next.
In other words, be prepared for anything. Now if you'll excuse me, I need to go purchase some adult diapers.
Dan Hanzus writes the Yankees blog River & Sunset and can be reached at dhanzus@gmail.com. His favorite line in "The Room" is easily, "You're tearing me apart, Lisa!!!" Follow Dan on Twitter @danhanzus.
Read more New York Yankees news on BleacherReport.com