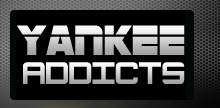 November 16, 2011 · Harold Friend · Jump to comments
Article Source: Bleacher Report - New York Yankees
The best thing to do is to ignore the "experts." The next-best thing to do is to ignore the rumors.
Ken Rosenthal is an excellent baseball writer who knows the game. It's not his fault that no one—not Ken, not me and not even you—can predict a baseball team's future or even a player's future.
Following the New York Yankees' unprecedented defeat at the hands of the Boston Red Sox in the 2004 ALCS, everyone "knew" what steps the Yankees had to get back to winning the World Series.
Rosenthal, in the Sporting News, which used to be baseball's Bible, had his own ideas.
He wrote that Robinson Cano might be traded. That was a possibility until Cano demonstrated his greatness. For whom might Cano be traded? How about Tori Hunter? How about a Yankees disaster?
According to Rosenthal in 2001, "Cano is half a player, invigorating on offense but indifferent on defense, an Alfonso Soriano without the power."
This is not a criticism. Cano was lackadaisical on defense at times, trading Soriano was a good move and despite his negatives, A-Rod has helped more than he has hurt.
Rosenthal was right when he suggested that the Yankees might sign free-agent Johnny Damon, which is what they did. It's a good thing that they stayed away from B.J. Ryan.
Hindsight illustrates that some of the suggested Yankees trades were fascinating.
"Let's say New York could send…Posada to the Diamondbacks for first baseman Conor Jackson and right-hander Carl Pavano to the Tigers for center fielder Curtis Granderson."
The Yankees got rid of Pavano, but he did have one great season with the Minnesota Twins and Granderson eventually became a Yankee—a "true" Yankee.
Trading Posada would have been a mistake, even more of a mistake than signing him for the contract that just ended.
In 2011, there is rampant talk that the Yankees will or won't sign C.J. Wilson, that Bartolo Colon will go but Freddy Garcia will stay, that Roy Oswalt's past back problems preclude signing him and Mark Buehrle might not be able to pitch effectively in New York.
Brian Cashman is looking for a fourth outfielder, but not a regular. Remember when Cashman acquired Nick Swisher as a backup first baseman? What has Nick been doing the last few seasons?
Brett Gardner has surprised some naysayers. Please, Mr. Cashman, don't tear down your outfield.
Many betting sites have the 2012 Philadelphia Phillies as World Series favorites with the Yankees next. (I was told this. I would never patronize a gambling site, not with the government tracking every move we make on the Internet.)
What happened to the favored Phillies and Yankees this year? Who predicted in July that the St. Louis Cardinals would win the World Series?
It's fun to speculate. It's idiotic to think that there really are "experts."
Read more New York Yankees news on BleacherReport.com