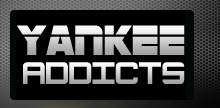 December 3, 2011 · chris brunau · Jump to comments
Article Source: Bleacher Report - New York Yankees
With the winter meetings coming up, and the New York Yankees not feeling too high on any free agent starting pitchers or right-handed hitters, it seems quite possible Brian Cashman can target the latest imports rumored to be coming to America.
Star Japanese pitcher Yu Darvish, and Yoennis Cespedes, the Cuban defector, could possibly find their way to the Bronx this spring.
Now, I am not suggesting the Yankees would go after both players of course, seeing as both will command their fair share of millions, but it is quite likely one of the two will end up on the Yankees.
Cashman recently admitted to the Yankees' interest and scouting of Cespedes.
Darvish, only 25, is already a star in Japan. The talented righty has a career record of 93-38 with an ERA of just 1.99 and 1,259 strikeouts. Obviously, Japanese baseball is quite different from the MLB (height of the mound, ball, talent, etc.), but numbers those good don't lie.
Darvish has been the talk of the international baseball water cooler ever since the 2008 Olympics. Many teams would love to land him, it just depends who posts for him. Being that it will only take money, and not any of the Yankees prospects, it is quite possible they will dig into their deep pockets and bring Darvish to New York.
The other possibility—and less likely in my opinion, as the Yankees have plenty of hitting—is Cespedes. The Cuban is a power-hitting center fielder (the Yankees would put him in right field), who has speed, amazing athleticism, and is only 26.
There are more risks with Cespedes however. He is a center fielder, so putting him in right field may prove unsuccessful; the move isn't as easy as it sounds.
Also, aside from his YouTube video and from what the scouts have seen, there is less known about Cespedes.
Regardless of his age or skills, the Yankees need pitching more than anything, and Darvish seems like the right choice.
Expect Darvish and the Nippon Ham Fighters to be a whole lot richer come spring.
Read more New York Yankees news on BleacherReport.com