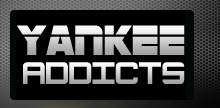 April 27, 2010 · Dan Hanzus · Jump to comments
Article Source: Bleacher Report - New York Yankees
I've been debating recently why it is that Javier Vazquez has been put on this Earth.
If you asked Javier, he'd probably say he's here for his wife and three beautiful children. That would certainly make sense. His Wikipedia page states he's a huge wine aficionado, so maybe he's just here for the fermented grapes. Then again, he may go the religious route and say he was here for God. That's kind of the safe choice when asked these types of broad-based questions.
But you and I know none of that is true.
The reality is that Vazquez exists for Mike Francesa. He exists for Ken Rosenthal. He exists for Buster Olney. He exists for all the media types who have air time and print space to kill. He exists for Johnny Damon, for reasons I'd rather not discuss. Most of all, he exists for you.
Yankees fans have an odd way of handling success. Most fanbases would look at a 12-6 record through a difficult stretch of 18 games and be ecstatic. But Yankees fans demand perfection.
We want to de-certify the robot technicians who can't get the Teixeira-3000 going. We want to ship Nick Johnson off to Marine Corps boot camp like his doppelganger Private Pyle from Full Metal Jacket .
Most of all, we seem to be intent on running poor Javy Vazquez out of town.
It's tough to defend what Vazquez has done this season. In four starts, he has one victory, and even that outing was mediocre. He has a 9.00 ERA. The opposition is batting .309 against him.
The Yankees could've kept Sidney Ponson around for that production. At least they'd have somebody on their side in a bar fight afterward.
Even more troubling has been Vazquez's demeanor. YES cameramen are now trained to search the bench for Vazquez, sullen and dejected, daydreaming about blowing a fastball past Daniel Murphy at a half-empty Turner Field.
He appears to have the mental fortitude of Glass Joe.
Vazquez said all the right things during spring training. He was open about his struggles in 2004, how he pitched through pain in the second half, how his performance on 10/20 left no residual damage. He said he never wanted to leave New York in the first place.
I believed the guy. At 33 and coming off a Cy Young-caliber season, he seemed to be a player whose head had finally caught up with his natural abilities.
But four starts in, we still don't know if Vazquez can hack it in New York. Part of me thinks that the idea that Vazquez cannot pitch here was entirely a media creation. This was a guy who was an All-Star in the first half of the '04 season, after all.
Is it possible that an entire winter and spring training of being asked repeatedly if he could pitch New York actually got into his head that he couldn't pitch in New York?
I'm guessing Ozzie Guillen would say yes.
Taking a step back, Vazquez can find solace in the fact that time is on his side. If he stays healthy, he has 30 starts left to re-write this story. The opportunity begins now to answer critics who say he can't get it done here.
Will he channel that criticism for the good, or will it consume him? Stay tuned.
Dan Hanzus writes the Yankees blog River & Sunset and can be reached via e-mail at dhanzus@gmail.com. Follow Dan on Twitter at danhanzus .
Read more New York Yankees news on BleacherReport.com