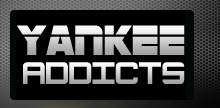 October 7, 2010 · Adam Bernacchio · Jump to comments
Article Source: Bleacher Report - New York Yankees
We've seen this movie before haven't we? The Minnesota Twins jump out to a lead, the New York Yankees come back, the Twins get tight, and then Mariano Rivera comes in to close the door.
It's like the movie Arlington Road (one of the more underrated movies in the last 15 years by the way). You kind of wait for the good guys to pull it out in the end, but it never happens. The Twins (the good guys in this case) can never seem to get over in the end and finish with a happy ending.
Last night, the Yankees defeated the Twins 6-4 to take Game 1 of their best-of-five ALDS. The Twins jumped out to a 3-0 lead behind Michael Cuddyer's two-run HR, but the Yankees got some clutch hitting from Curtis Granderson and Mark Teixeira to take Game 1.
Here are some observations from last night's game…
Joe Girardi looks like he has aged 15 years in the last 12 months. Looks like he is having no fun at all.
Why is it that, because CC Sabathia is 280 lbs, nobody thinks he can get tired? He was gassed in the sixth inning.
I thought TBS announcer Ernie Johnson was terrible last night. Could you get more excited about a go-ahead, two-run HR in the seventh?
Did John Smoltz go onto Fangraphs before the game? He was a fountain of advanced statistics.
Jorge Posada's passed ball was a joke. His defensive deficiencies have always been masked by his offense. He has been a DH now for the last five years.
On the flip-side, his line drive single that just went over Orlando Hudson's glove was one of the biggest hits of the game for the Yankees.
Granderson's triple looked like a pop-up to right center. Delmon Young's fly ball to left off of Sabathia looked like it was going to go in the upper deck and didn't even reach the warning track.
Smoltz was dead on about the pitch sequence in the Teixeira HR AB. Jesse Crain missed his pitch twice on Teixeira and then was forced to throw a fastball. He paid dearly.
The Yankees should really consider giving Rivera the biggest plaque in Monument Park. How many times have we seen him bail out another mediocre Yankee relief pitcher in the eighth inning? He did it again last night.
For those who desperately want instant replay in the game, you should have begged Jim Thome to hit a two-run HR after Young's line drive was ruled a trap when it really wasn't. If the Yankees would have gotten screwed over by this call that could have been solved by instant replay, Lonn Trost and Randy Levine would have caused an uprising that would have made General Patton's storm into Normandy look like a stroll in Central Park.
I believed in my Yankees-Twins series prediction that the winner of Game 1 would win this series and I still believe that. I don't think the Twins have a chance now. It's all mental.
Game 2 is tonight at 6:07 PM
You can follow The Ghost of Moonlight Graham on Twitter @ theghostofmlg
Read more New York Yankees news on BleacherReport.com