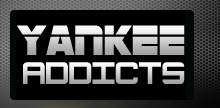 March 3, 2012 · Kate Conroy · Jump to comments
Article Source: Bleacher Report - New York Yankees
With 2012 spring training games about to start, the question to New York Yankee fans is: Who are you most excited to see play this spring?
My answer was easy: Pitching prospect Manny Banuelos.
It is no secret that Banuelos has been on my radar for some time now, as I first wrote about him back in November of 2010 as being the Yankees' Cheapest Cliff Lee Back-Up Plan.
Why Banuelos?
When I saw the 5'10″ lefty last spring training, my immediate thought was that this kid is a future ace, just read Manny Mania, Manny Rules.
What was so impressive was that Banuelos clearly displayed the maturity of a major league pitcher (read New York Finally Gets A Manny), by the way he controlled his emotions on the mound. No doubt there were flaws as he walked guys, but he remained poised when he got into jams.
A native Mexican features three pitches: A mid-nineties+ fastball with remarkable movement, a wicked changeup and a curveball that need some work, so it will be interesting to see how it looks a year later.
Banuelos has a very consistent delivery off the mound, and that should have allowed him to work on tweaking his pitching mechanics more over the last year.
In a recent interview, Marc Craig from the Star Ledger asked Banuelos, Where do you want to get better? and the almost 21-year-old answered:
"I have one thing on my mind and that's my control, my command on my fastball. That's important to me. … This is my second year here. Last year, they saw what I can do here. They have an idea about me."
And with the departure of Jesus Montero, the pressure will certainly be higher for Banuelos because he is now considered the organization's top prospect. Baseball America ranked Banuelos #29 in all of baseball for 2012.
I had hoped to see Banuelos last season in the Bronx, but he struggled last summer moving from Double-A Trenton to Triple-A Scranton Wilkes-Barre, where he joined for a 6-7 record with a 3.75 ERA over 27 starts.
It has also been said that all the media attention following his impressive 2011 spring frazzled Banuelos, which is understandable but won't be acceptable again this season, which marks his first full year in Triple-A.
Only time will tell, but so far so good.
And I urge Yankee fans…that if Banuelos is not on top of your "who to watch" heading into 2012 spring training, I recommend that you consider moving this kid up ASAP. I mean Yankees player-development boss Mark Newman did compare Banuelos' composure to that of the great Whitey Ford, and that was back in 2009.
Read more New York Yankees news on BleacherReport.com