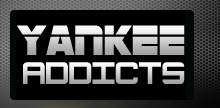 October 7, 2010 · Adam Bernacchio · Jump to comments
Article Source: Bleacher Report - New York Yankees
When the Los Angeles Angels of Anaheim finally beat the Boston Red Sox in last year's postseason after years of getting their butts kicked, they needed to exercise their demons in dramatic fashion. They swept the Red Sox in the ALDS and did so by coming back against Red Sox closer Jonathan Papelbon in the ninth.
Not only did they beat him, they really pounded him into the ground. If the Minnesota Twins are finally going to beat the New York Yankees, they are going to need to do the same thing. They are going to need to walk into the lion's den and spit into the face of the lion.
Until that happens, the Yankees will continue to beat on the Twins like they did in Game 2 of their series. The Yankees once again beat the Twins, this time by a score of 5-2, to take a 2-0 series lead in their best-of-five ALDS.
This game turned for the worse for the Twins in the top of the seventh inning.
After Orlando Hudson tied the game at two in the bottom of the sixth, Carl Pavano had to come out in the seventh and shut the Yankees down. It was a must. Pavano did anything but.
Needing a shutdown inning, Pavano walked Jorge Posada to start the inning, which was an absolute no-no. Then the Yankees-Twins karma, luck, whatever you want to call it kicked in.
On a 1-2 pitch, Pavano threw a two-seam, tailing fastball right over the inside corner to Lance Berkman
. It was a strike to everyone except home plate umpire Hunter Wendelstedt. Berkman would have been struck out, but of course he got another chance.
You just knew that Berkman was going to do something good. That's how it worked for the Yankees in the '90s and last year. They get those magical breaks that they always seem to get and then they capitalize on them.
On the very next pitch, Berkman ripped a double to center, the Yankees had a 3-2 lead, and they never looked back. Classic Yankees' postseason magic right there.
Here are some observations from Game 2…
Andy Pettitte is as automatic in the second game of series as any other pitcher in postseason history. Five hits, two runs, and just one walk over seven innings of work. The Yankees will miss him just as much as they will as Mariano Rivera when he retires.
Mauer is two-for-nine in two games for the Twins. He needs to do better than that if the Twins are going to win.
Curtis Granderson continues to rake. Three-for-four and hit four bullets. Yankees' hitting coach Kevin Long deserves major kudos for turning Granderson around at the plate.
Berkman's HR off of Pavano in the fifth inning to left-center field is further proof that when a lefty makes solid contact to the opposite field, it's the sweetest swing in the game.
You could see Ron Gardenhire's ejection after the missed called strike to Berkman coming a mile away. I would say that was more egregious than the Michael Young missed check swing in the Rays–Rangers game.
Lost in this game will be the amazing job Jon Rauch did in the top of the seventh. He came in with the bases loaded and one-out and had to face Alex Rodriguez and Robinson Cano. Rauch got A-Rod to strike out and Cano to pop out to Hudson at second. It was really an impressive outing.
Ever since Kerry Wood learned how to throw a cutter from Rivera, he looks as dominant as ever. Twins had no chance against him in the eighth.
Jason Kubel has two hits in 25 career postseason at-bats. He killed the Twins last year and he is doing the same again this year.
Game 3 will be Saturday night at 8:37 PM est.

You can follow The Ghost of Moonlight Graham on Twitter @ theghostofmlg
Read more New York Yankees news on BleacherReport.com