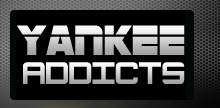 March 20, 2010 · Bronx Baseball Daily · Jump to comments
Article Source: Bleacher Report - New York Yankees
The Yankees have sent two more players, right handed pitchers Romulo Sanchez and Ryan Pope, to the minor league camp cutting the total number left in camp down to 50, according to Bryan Hoch of MLB.com .
Not that either player had a realistic shot at making the team out of spring training, but the bigger shock here is with Sanchez. Not in the fact that he was cut, but that he was cut now. It's more of a signal that there are less innings available during the rest of the spring as Sanchez is likely to start the season in the triple-A rotation. He'd also be on the short list of players to call-up in an emergency start situation.
As for Pope, he really had no shot at making the Yankees roster. He's still 23-years-old and so far has had an unspectacular minor league career since being drafted in the third round of the 2007 draft. A starter since his time in Staten Island in 2007, he's thrown 295.2 minor league innings and only has a losing record, 15-19, and a 4.27 ERA to show for it.
The Yankees have been impressed with him so far this spring. According to Joel Sherman his velocity has been higher than usual and he's expected to start in the rotation for Trenton. If he does well there he could be this year's Phil Coke.
Coke was a starter in the minor leagues until he was moved to the bullpen where he got a slight increase in his velocity. That made him slightly more effective to the point where he opened enough eyes to get called up to the Bronx.
Don't be surprised if the same thing happens with Pope. Success at the double-A level could lead to a bullpen role at triple-A and then maybe a shot in the Bronx. The only difference between his path and Coke's is that Coke is a lefty which made it easier for him, but if Pope's velocity increase is real and he puts up good numbers this year don't be surprised to see him when he gets here.
Read more New York Yankees news on BleacherReport.com