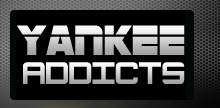 February 25, 2010 · Joseph DelGrippo · Jump to comments
Article Source: Bleacher Report - New York Yankees
I have read a boatload of preview articles for the 2010 season, plus many articles on the 2010 Derek Jeter-led New York Yankees and their attempt to be the first team to repeat as World Series Champions since, well…the Jeter-led Yankees of a decade ago.
Most pundits agree that the New York Yankees have the best team in baseball and, coming off a 103-win, 2009 regular season and a World Series title, it is hard to argue.
But people always need things to write about, and controversy is a main topic in New York sports. Many real baseball writers such as Jon Heyman and Buster Olney have written pieces about the Yankees' chance to repeat. But hundreds of other bloggers have their viewpoints, too.
I believe most "bloggers" are sports fanatics who could never play a major sport to any degree. Most of what they write usually is negative, as they rip players, teams or GMs. The writers never understand how difficult it is to do what those professionals do or go through on a daily or seasonal basis.
I even read one website guy exclaim that the Yankees were too boring this offseason and that he needed some controversy to write about. That guy's blog has consistently provided material proving he is knows nothing about baseball.
The "TMZing" of baseball really galls me.
Do bloggers realize that it was very difficult for Joe Girardi to walk in after Joe Torre was released, have many of his star players besieged by injuries, and be expected to win "because that is the Yankee way." His team missed out on the playoffs in 2008 and Girardi was ripped mercilessly. Even after winning the World Series last season, many have wondered whether Girardi will be back for 2011 if the Yankees do not win a title again this season*.
*Truth is that Girardi will be the Yankees manager for at least as long as Torre, maybe longer. He is not inept. Girardi is very intelligent as a baseball guy and, as a former catcher, he knows the game pretty well. Most catchers make good managers, as that position is involved in every single pitch made on the field, and the catcher is in the best position to see the entire field.
That is one reason why scouts and front office brass sit behind home plate, it is the best place to see the game. Girardi also learns quickly on the job. His reversal last season of his 2008 totalitarian ways (with players and media) made for a better player/manager/media relationship.
Yep, Girardi will be the Yankees manager for a long time.
The non-extensions this offseason of Girardi, Mariano Rivera, and Derek Jeter were one of the "stories" created by a tired and broken down media. Those people writing about the Yankees possibly losing one of those guys, especially Rivera and Jeter, are the same guys who thought the New York Mets were waiting for Minnesota native Joe Mauer to leave his hometown Twins, become a free agent, and sign with them next season.
Yeah, like that was going to happen. Maybe Albert Pujols will leave the St. Louis Cardinals, too!
The fact that the Yankee policy of not negotiating until the contract is over was given very little credence. Also, the professionalism of all three guys was never really spoken about much. Anybody who reads my articles knows how I feel about Jeter's next contract . Jeter's comments yesterday greatly reinforce those thoughts.
Other offseason controversies written about include the finally ended Johnny Damon saga, the lack of getting a power bat for left field, and the competition for the fifth starter spot in the rotation.
But the biggest thing I continuously read about the 2010 Yankees is the phantom issue of complacency.
Complacency about what? Winning? Are they serious?
The complacency issue is the biggest non-issue, because complacency does not exist with today's professional athlete . There is too much at stake—another ring, that next contract, fame, embarrassment, but most importantly, that desire to win every game, all the time.
Do people really think that these professional athletes are not going to have the personal pride to try and win every game they are playing?
Once you win, like the Yankees did last season, you know how great that feeling is and, as a player, you want to win all the time. Even before a player wins a World Championship, they want to win all the time.
It is why they are professional athletes—that desire to compete at a high level and to win. These guys want to win on the field, in front of the Xbox, and at the clubhouse card table.
While it is true that at certain times during a baseball season players might give away at-bats or go through the motions in a blow-out game (but never the Big Dago Joe DiMaggio), these professionals are NEVER complacent about their jobs.
I have always said that athletes are so competitive, they would still play a game just as hard in an empty stadium with no television coverage.
If a mid-July Wednesday day game were played on a sandlot field in the middle of New Jersey, Brett Gardner would still sprint towards second base hard to break up a double play, Mark Teixeira and Alex Rodriguez would still dive for hot smashes down the lines, and Jeter would hustle down to first base on a ground ball.
That is the mantra of the athlete. Compete and win. You want to beat the other guy and team.
Even on the level I used to play in summer semi-pro hardball, the games and season were ultra-competitive. We used to play 40 regular season games in 60 days, then playoffs. The season would stretch from Memorial Day to early August, playing night games after work to Sunday double headers. The teams in our league were pretty much the same every year, the same core with a few new ringers.
We wanted to win and were really not happy when we lost a game. I remember a bunch of us sitting around for hours after losing the final game of the playoffs one summer. It was terrible. We worked even harder to have a better team the next season.
We weren't complacent—even in a summer league.
Do you think that the pro players would be complacent? No way.
Do you think that Nick Swisher was complacent after he won his first ring last season?
No. He went out, improved his hitting mechanics with a hitting coach over the winter and changed his eating habits, losing 12 pounds. Swisher wants to become even better this season, knowing he is the starting right fielder. He wants another ring.
Do you think Jeter is complacent after working hard again on his lateral movements to continue his tremendous defense at short?
Is Gardner complacent by working on his bunting to expand his game?
Even management was not resting on their laurels.
Do you think GM Brian Cashman was complacent this year? Nope. He made a couple key trades to make the Yankees younger and less expensive.
I read somewhere that Cashman made his first inquiry to the Detroit Tigers about Curtis Granderson during last year's playoffs. The Yankees did not even win the World Series yet, and Cashman was already looking to improve the 2010 Yankee team!
And if complacency did occur like in the old days, it would only occur in the offseason, as players maybe would celebrate too much, not work out enough to improve their game, and not be in the same physical condition entering spring training. Most of the time players had to hold offseason jobs to make ends meet.
But with the money in today's game, the players' full time jobs are their overall health and keeping in shape year round. Spring training is not like it used to be when players would use the spring to get into shape. Now all players keep fit during the winter, and the players use the six weeks prior to the season to get into BASEBALL SHAPE.
Complacency is not an issue for major leaguers and especially not these Yankees. Cashman has put together a team of high constitution players without egos and with a strong desire for commitment to the team concept. And that commitment includes working out all year to improve and be ready to play every day.
The Yankees do have the best team in the Major Leagues but may not win another World Series Championship this season, as it is just so hard to do that with the three levels of playoffs.
But it will not be because of complacency.
That does not happen in pro sports.
It is just another media creation.
Read more New York Yankees news on BleacherReport.com