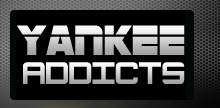 October 16, 2010 · Joseph DelGrippo · Jump to comments
Article Source: Bleacher Report - New York Yankees
I am 100 percent confident that C.J. Wilson does NOT give up five runs in the eighth inning if Texas Rangers manager Ron Washington allowed Wilson to stay in the game.
Wilson ended up allowing two runs on two hits that inning, and was pulled in favor of Darren Oliver following a Derek Jeter RBI double.
But the Yankees would probably have only scored those two runs (or maybe just the one already in) had Texas manager Ron Washington avoided being like Bobby Cox and Bruce Bochy.
When you try to over-manage based upon matchups, you end up losing most of the time, like Bochy and Cox in the NLDS and now Washington in Game 1 of the ALCS.
I have to give oodles of credit to YES announcer and ESPN radio host Michael Kay, who has constantly said that Joe Girardi will out-manage Washington. Girardi has proved Kay to be prophetic.
Girardi made a good move by using Joba Chamberlain in the fifth inning, but I applaud Girardi for throwing a nice changeup and bringing in Dustin Moseley for the sixth and seventh innings.
I am not a big Moseley fan (in fact he stinks), but bringing him in after Joba was throwing 95-96 MPH heaters was a stroke of genius.
The Rangers hitters were completely off-balance on Moseley's 89 MPH fastballs (acting like a change to Joba's and C.C.'s heat) and were more off-balance when Moseley threw his rinky-dink high 70's breaking pitches.
Dustin's two-inning scoreless effort allowed that Yankee comeback to occur. Sandwiching him between two fireballers in Joba and Kerry Wood made Moseley more effective and probably made Wood's fastball appear even quicker.
Most people are saying that Washington did not use his hard-throwing closer Neftali Feliz in that eighth inning. That is a valid point once the decision to remove Wilson was made.
But why did Washington remove Wilson in the first place? Don't give me that bull about pitch counts, matchups, that Wilson was finished or "you want to remove him with a lead and feeling good." Total garbage.
There are no pitch counts in the postseason. As NFL head coach Herman Edwards has said, "You play to win the game." Wilson was dealing very well at that point.
He gave the Rangers the best chance to win at that moment, certainly better than Darren Oliver or Clay Rapada. No need to remove Wilson. He allowed a weak ground ball single to Brett Gardner and then a hard double to Jeter.
The end of the world? Hardly. Lose with your best on the mound, not with your middle relievers. The best at that point was Wilson.
When Alex Rodriguez came up with the bases loaded in that inning, TBS commentator Ernie Johnson said that Alex was "0-for-3 with two strikeouts." That was against Wilson, and Rodriguez had not even come close to catching up with Wilson's fastballs.
Nick Swisher and Mark Teixeira had not done much of anything off Wilson either.
At that point in the game, the Yankee two (Swisher), three (Teixeira) and four (A-Rod) hitters were 0-for-9 with three strikeouts.
So why the need to take out your starting pitcher when he has dominated all game long?
I was watching Game 3 of the NLDS between the Atlanta Braves and San Francisco Giants. Jonathan Sanchez was on the hill in the eighth inning (that fateful inning again) for the Giants, winning 2-1. With one out and a man on first, he had dominated a very weak Braves lineup.
Cox brought in right-handed hitting Troy Glaus to hit for lefty-hitting Rick Ankiel against the lefty Sanchez. Bochy went to his bullpen for RHP Sergio Romo.
Again. Why? I texted about a dozen people at that time saying how terrible a move that was. Sanchez had dominated up to that point, so why remove him? After the pitching change, Eric Hinske pinch hit for Glaus and powered a go ahead, two-run home run.
Bochy is lucky that Cox was even more idiotic in the top of the ninth, and the Yankees are lucky that Washington is more of an idiot than either two of those N.L. managers.
From the seventh inning on, why do managers feel the need to remove starting pitchers after one hitter hits the ball hard?
But since Wilson WAS removed by the inept Texas manager, why not bring Feliz into the game? Your best pitchers need to be in the game late, not Oliver and Rapada.
Rapada was added to the ALCS roster for this series to face lefties like Robinson Cano and Curtis Granderson, but Rapada had not pitched in a REAL GAME against REAL HITTERS since Oct. 2.
This is a little known secret. Throwing more bullpens between appearances to stay "sharp" is of very little benefit when facing guys with bats in their hand.
To put Rapada in last night's game on national TV to face Cano, who hits left-handers just as well as right-handed pitchers, is akin to pulling the switch on an execution.
I prefer the dominating starting pitch to remain, but if you want to bring in your top reliever, that is less of a quibble.
In Game 1 of the 1972 World Series (a day game by the way), Oakland A's manager Dick Williams brought in his best relief pitcher, Rollie Fingers, in the SIXTH inning with no outs and the tying run on second. Fingers stranded Johnny Bench at second and the A's won.
Williams also brought Fingers in the FIFTH inning of Game 5 that series. Fingers shut the door early before allowing the tying run in his THIRD inning of work that day. That thrilling game was the last weekday day game played in World Series history.
Once the decision was made to remove Wilson, Washington managed last night's game based upon the save statistic and not to win the game.
Often times during important games, the big inning is not the ninth inning, but an inning earlier in the game when men are on base and a potential game-tying rally is forming.
If the manager wants to make a move, that is when your best relief pitcher should be brought in the game. However, I wouldn't have made the move.
Washington managed that game not to lose, but he ended up getting what he deserved.
A well-earned loss.
Read more New York Yankees news on BleacherReport.com