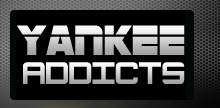 April 9, 2010 · Bronx Baseball Daily · Jump to comments
Article Source: Bleacher Report - New York Yankees
It happened to me again this year: I thought Christian Garcia would stay healthy. That will not be the case, though, as Garcia left last night's game in the middle of the sixth inning experiencing the same pain in his elbow that caused him to miss most of the 2009 season.
"It was some soreness in the elbow. It was pretty serious," Garcia said . "It's kind of like the same pain I had before (referring to the season ending elbow problem he experienced in 2009)."
It was not one pitch that finished Garcia, and he said if he could have thrown one more pitch he would have. No, this started as a pain in the third inning and got worse until he left the game with two outs in the sixth with a 1-2 count on the batter.
It is too early to tell exactly what went wrong for Garcia, or how long he'll be out, but from everything he said after the game it seems serious. He will undergo tests this afternoon and we'll know more then.
This keeps happening to Garcia and you have to wonder, despite his electric talent, if he'll ever be a successful major league pitcher. According to Mike Ashmore this is his seventh major injury:
This is at least the seventh significant injury for Garcia during his tenure in the Yankees organization; he strained his elbow in '05, strained an oblique in '06, had Tommy John surgery on his right elbow and knee surgery in '07 as well as elbow tendinitis AND surgery in '09.

At some point, you have to wonder if he can keep coming back…whether it's even worth it for him. There is no question this kid is talented. Look at what he did tonight as his body betrayed him once again.
Thoughts
This is especially rough news after the amazing scouting reports we heard this spring. Make no mistake, this is a big blow to the Yankees organization because this kid had some real talent. At this point they're not going to give up on him, but there is no reason to expect that he can put his injury past behind him.
This also hurts the Yankees pitching depth.
There were rumblings two weeks ago—when Alfredo Aceves was experiencing back issues—that the Yankees gave up on Chad Gaudin too early. Those paying attention weren't overly concerned because the Yankees had depth in the minor league system in Zach McAllister and Garcia.
Now, without Garcia, it makes them a lot more shallow and people tend to overlook stuff like this, but you need only look back to 2008 to see how important minor league depth is. That season the Yankees thought they had Alan Horne, Jeffrey Marquez, and Garcia ready as depth in case of injuries. Once the injuries to the pitching staff occurred and the minor league depth wasn't there the Yankees were forced to go with scrubs like Sidney Ponson and Darrell Rasner just to get by.
The Yankees are still in good shape as far as the health of their big league rotation goes and they still have some depth, but it would have been nice to have a healthy Garcia waiting in the wings putting up big numbers if things got desperate.
Related Stories
Read more New York Yankees news on BleacherReport.com